10 Years of Pumpkins and Fun
When Eric Layman of Botetourt County took his wife Sharon to an 87-acre field in Blue Ridge, she stepped out of the car a little surprised. "Can you see it?" he asked her. "This is going to be our future." That was 8 years ago. Now that 87 acres has been converted to a family business that draws extensive crowds each year—Layman Family Farms.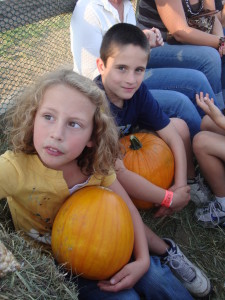 But that's not where the Layman Farm actually began. The Layman name has been around Botetourt for generations. In fact, Eric is a fifth generation farmer. In 2005, Eric and Sharon leased the Layman packing house and part of the orchard located on Rt. 220 in Daleville from Eric's grandfather and uncle. The packing house and store had been around since the 1940s. The store was open to the public offering fresh produce, country hams, jams, jellies, unpasteurized Apple Cider, country cheese and butter, and, of course, apples and peaches. In 2004, Eric and Sharon decided to take the business to the next level by hosting fall festivities.
When they first began, Sharon said they had a corn maze, a corn box, and a no left t
urn maze made from hay bales. "There were three little picnic tables and one porter john," she said. The stayed at that location for two years. When Eric's grandfather and uncle decided to sell, they realized it wasn't in their price range and started looking elsewhere. That's when they found the perfect piece of land, not far off, in Blue Ridge. While it was sad to see the 40 to 50 year old trees cut down at the old property, they took whatever they could to Blue Ridge, including one of the original barns. They rebuilt it at the new site, using the same roof and all. While quite rustic amidst a newer attraction, Sharon said "it's nostalgic and part of [Eric's] grandfather."
It was two years before they actually started growing produce at the new site. In fact, up until last year, they were still bringing produce over from a farm they were leasing in Fincastle. Their timing couldn't have been more perfect. After all of the summer's rain, 20 acres of that Fincastle farm was four feet under water. "God was definitely telling us something," Sharon said. They now have over 500 apple trees of multiple varieties, 200 peach trees and a 40-acre pumpkin patch in Blue Ridge, not to mention the corn, tomatoes, squash, zucchini, peppers and me
lons grown on site as well.
On September 21, when they kick of the season, the Laymans will celebrate the 10th anniversary of operating the fall festival. Despite the hard work that it's taken to get there, Eric reaps rewards from the children's smiles and laughter when they visit the property. A born farmer, he said he simply loves the peacefulness and beauty of the land and everything it will produce with a little hard work.
Sharon, who was born in Pennsylvania, and spent most of her childhood in the D.C. area, didn't really have farming in her blood. However, the couple seemed to have a connection at first sight. Sharon explained their meeting at Corned Beef and Co. in downtown Roanoke in the mid-90s. She was a West Virginia University graduate and Eric had graduated from Virginia Tech. "It was the night before the Tech versus West Virginia game," Sharon said. "I hollered go Mountaineers at him when I saw his Tech hat." He came over and told her he wanted to make a bet. If West Virginia won, he would treat her to dinner, and if Virginia Tech won, she had to treat him. Sharon said she figured she'd never hear from him, but when she got home there was a message on her answering machine saying, "Go Hokies! What's for dinner?" "We kind of clashed," she said. "My dad was a doctor. I was in the corporate world when we met." They have been together ever since and ended up being the perfect team. With her background in sales and marketing, she had a necessary talent for their future family business. "I love the farm, but I don't pick beans. I don't work in the field," she said. However, she does the marketing and advertising, works with the student groups, helps wherever needed during business hours and sells produce at the Salem Farmer's Market just for starters.
Sharon said the farm life isn't easy. Her husband gets up early and works until dark seven days a week. Their vacation comes in the winter. "Farming is a tough life. It's not a nine to five job," Eric said. "There's months I work 80 hours a week and some months I work 40. But working for myself allows me to be with my family when needed. However, during our busy months, I miss out on a lot of y kids' sports." The life of a farmer also comes with lots of risks. "There are times when Mother Nature doesn't cooperate," Sharon said. "With all the rain this summer, we just pray for beautiful sunny days." These risks were one of the reasons they decided to open the doors to the public for more than just selling produce. "It supplements our expenses," she said. "Lots of farmers do it."
It didn't take long for their new attractions to take off. At their original site they were doing two to three fall field trips a week. Now they have seven to eight groups a day and have expanded to offer spring field trips. Their activities have grown as well. The 10-acre corn maze winds you through 8-foot corn stalks. There is a petting zoo with goats, sheep, horses, pigs and chickens; a corn can
non; a pumpkin blaster; a kiddie cow train; a giant tunnel slide; a mini-maze and corn crib for younger guests; and one of the newest highlights, a jumping pillow. Then there's the busiest and most popular attraction, the hay ride, where you will typically find Eric himself behind the wheel of the green John Deere tractor, where he leads groups out to pick out pumpkins. On Friday and Saturday nights, the braver guests can journey through the Haunted Harvest, complete with zombies and chainsaws.
And then there's the food. The farm offers typical concessions including barbecue and hot dogs with homemade chili. A kettle corn stand is one of the busier sites. "People come in just for the kettle corn," Sharon said. "It's a secret recipe." Just last year they started selling fudge, with the most popular being non-other than pumpkin and this fall they plan to sell caramel apples. And of course, it wouldn't be fall without the warm apple cider. Some family friends also have a booth that features fried Oreos, funnel cakes and ribbon fries.

Sharon said they plan to keep adding, but it's time that holds them back. Every year they go to a conference with over a hundred other farm families to swap information and ideas. While the farmer in Eric simply wants to plant more trees, Sharon has her sights on adding a platform where they can bring in country bands on the weekends. They also started working with charities last year, helping raise money for the Susan G. Komen Breast Cancer Foundation and the Children's Miracle Network, and offering discount days for scouts and service men and women. "The community has done so much for us," she said. "We want to give back." Sharon also said they potentially have a surprise addition for this fall, but wasn't ready to reveal it just yet.
The Laymans raise more than just crops. They have three children. John Michael used to help in the packing house when he was younger before moving to Wisconsin. Emma, 13, and Garrett, 11, both attend Read Mountain Middle School. "I put them to work," Sharon said, "but they usually find a way to get out of it and end up on the jumping pillow. They can't wait for it to open."
Eric added, "You raise your crops like your children. Sometimes you make mistakes, but if you try hard, everything's gonna turn out perfect."