3 Questions with Ava Rosa: A Year in Review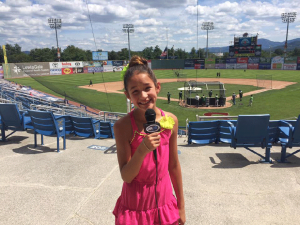 It's coming up on the one year anniversary of when we started Three Questions with Ava Rosa. In celebration, I wanted to share some great things I learned in my first 15 shows- which are all available at
www.AR3Q.com, Youtube, and Facebook.
When I first considered being a journalist, it was mostly because I hadn't ever seen a kid like me ask real questions like the best journalists do. There were kids on the news sometimes, maybe doing the weather or asking easy questions, but nobody I had ever seen was doing it the way I wanted to do it.
I have since had the amazing opportunity to meet some of the great leaders of Roanoke Valley and ask them real questions- of course just three- but, in those 45 questions or so, I have learned so much.
Here's what I learned this year on Three Questions with Ava Rosa.
In my first interview ever, with the now Vice-Mayor of Roanoke, Anita Price, I learned that grown-ups will give kids a chance, if kids just ask. I learned that democracy requires participation and way too many people do not participate. The most important thing I learned from Vice Mayor Price though, is that politics can be based on kindness and love.
In my second show with Chris Hurst at WDBJ, I learned that good people want to be good mentors. I learned never to let anyone else take your microphone and that television news has a whole lot more people behind the scenes making it happen than you see on the screen. I also learned that tragedy can reveal the true heart of people and make their mission in life that much more important because they want to honor the memory of the people they loved and lost.
When I got to interview Sara Gregory at the Roanoke Times, I learned how important a local newspaper can be and is for a community. I learned that what we see in the paper requires smart people to decide what is important and then go find out as much as they can about it. I learned that the newspaper industry is vital in holding leaders accountable and is doing everything it can to survive changes in technology and the way people get their news.
Meeting Miss Roanoke Valley, Andolyn Medina, was amazing. She taught me that someone can be bright, beautiful, and devote their life to the service of others, even as a kid. She taught me that there is a lot someone who cares can do to help others in whatever free time they have. She taught me that inner beauty is earned.
Virginia State Delegate Sam Rasoul taught me that the Constitution protects equality, but that it takes elected representatives who care about all people, to make sure that equality is promoted. I also learned that people of different backgrounds can be leaders and represent their faith and nationalities in a way that teaches others to be less fearful and more kind.
When I got a chance to ask a question with George Takei when he was visiting Roanoke, he taught me that history has not always been pleasant or fair and it is important to remember the hard times to try and avoid them in the present and future. I also learned that nice people will stick up for a kid when they think she might not get to ask her question.
When I interviewed the CEO of the United Way of Roanoke Valley, Afira DeVries, I got to learn about what it means to actively care about other people in an organized way. I learned that there are thousands of people who each give what they can to help their neighbors in need. I learned that my mom is kind of awesome, but I already knew that.
Talking with Mayor David Bowers on his last day in office, I learned that Roanoke has a great opportunity to grow and be an even better place to live. Mayor Bowers taught me that even well meaning people make mistakes and say things they wish they hadn't, but that the most important thing is to be willing to apologize and be able to be forgiven, when you do. I discovered the Mayor's chair is pretty comfy, too.
When I got to cover the Miss Virginia 2016 Pageant, I was amazed at just how talented AND smart these beautiful women are. I learned that beauty is much more than someone's outer appearance and that the Miss America pageant actually is a very difficult competition, that is about a lot more than looks. I learned that it is heart-breaking when someone you know doesn't come home with the crown.
Talking with Salem Red Sox President and General Manager, Ryan Shelton, I learned how great it is that we have a local baseball team to enjoy. Through good times and bad, the tradition of baseball and the chance to spend quality time with family at the ballpark is an amazing part of Roanoke Valley culture. My sister and I also learned that singing the national anthem before a game is terrifying and awesome at the same time!
At the Rolling of the Bulls to benefit the Children's Trust, I discovered that you mess with a bull and you might get the horns. I really learned that there are great people who want to use what they do to help raise money and awareness for others, while having a lot of fun. I also learned that Grandin Road is long when it's 90 degrees and you are being chased by angry skating bulls, while holding a go pro the whole time.
Pearl Fu taught me and so many others how important it is, not just to accept each other's differences, but to celebrate them. I learned that a passionate person like Pearl Fu can help change a culture and be a representative of beauty and diversity in all their colors.
When I hosted the RYSE Roanoke United Way Talent Show, I learned how important it is to recognize talent in a community and try to help people make the most of each other's ability. I learned that I am grateful to know where I sleep every night and that there are over 500 children in our community who do not, and should, and can, and must soon.
Meeting Brenda Hale, the President of the NAACP of Roanoke, I was able to understand how the history of open racism in America was really not that long ago. I discovered that people who are over 60 years old today, lived during a time when things were not equal and they were forced to live separately and go to different schools and were treated differently because of how they looked. I learned that there is a lot of work still to do to make sure that people of all races have the same opportunity as everyone else to be safe and successful.
In my last report of the year, I did a live show on stage at a Children's Trust event honoring recently retired Judge Phillip Trompeter. I learned that many kids around us are growing up in danger and in fear. I learned that in times of crisis, sometimes people from the community need to step in when parents cannot or will not. I learned that there are extraordinary people who devote their lives to other people's children and make a huge difference with their life's work.
This last year has been an unbelievable time in my life. When I started this idea, I never would have imagined that I would meet so many great people and learn so many important lessons. The biggest lesson I learned this year has been from you, the people who have shared this journey with me and watched my reports. You have liked and shared. Commented and tweeted. You have made this now 11 year old reporter feel like what I am doing matters and that I can make a difference if I work hard and try my best- and that has been the best lesson of all, this year. I really appreciate your support. It's going to be another great year!
For Three Questions with Ava Rosa and Growing Up in the Valley, thank you for reading, see you next time.