3 Questions with Ava Rosa: Chris Hurst Interview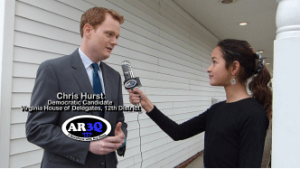 I'm here at the official launch party for the Chris Hurst for State Delegate Campaign, here in Blacksburg, right across the street from Virginia Tech. Almost exactly one year ago, I had the opportunity to meet Chris Hurst and tour the WDBJ studio for my second Three Questions with Ava Rosa episode. What a difference a year makes!
Just a few weeks ago, Chris made the surprising announcement that he was leaving his anchor desk and moving on. A short time later, he announced that he was going into public service and running for the Virginia House of Delegates, representing the 12th District.
I'm here to meet Chris Hurst and of course, I've got three questions.
Ava Rosa: Thank you for meeting me today, Chris. You are my first repeat guest, but so much has changed in the last year. When we last interviewed you, you were the anchor of the CBS in Roanoke, WDBJ; which brings me to my first question: What made you decide to leave what many would consider a dream job, to pursue politics?
Chris Hurst: I really felt like I just couldn't stay at that station anymore. It was just too difficult for me to be there and, I don't think it's necessary for me to get into specific examples, but it was just emotionally too painful; but I didn't want to leave Southwest Virginia. I knew that I couldn't work at another TV station, because that's the way the business works. So, what could I do to stay here, be with the people who supported me so much and tell their stories and be there for them? This seemed like a natural progression to me.
Ava Rosa: When you announced that you were running, Facebook lit up with people saying that they loved you as an anchor on the news, but because you registered as a Democrat, they would not vote for you. What do you say to the people who feel this way?
Chris Hurst: Well, I hope that they will still give me a chance. I think that we've seen in recent elections that people are willing to switch sides and vote for somebody from a different party then they otherwise normally would. I knew that coming out and having a party affiliation was going to be something that would turn off and alienate some people and I expected that and I understand that and I respect them for that. I certainly didn't have my anchor career influenced by any of my political persuasions or personal opinions. I tried all the time, to make sure that I was objective and neutral with my coverage, but when it came time for me to decide to run for office, it made sense for me to align myself with the Democratic Party and I'm proud to do that.
Ava Rosa: One of the things that people talk about a lot in Roanoke is how local kids go to school at one of the best colleges for science in the country at Virginia Tech and then most leave the state to pursue their careers. What would you do to keep talented Virginia students in Virginia, after they graduate?
Chris Hurst: Well, we need to make sure that they can look out at Southwest Virginia and project a future for themselves, for the people that they love, and their families. We need to make sure that our schools are properly funded and supported, so that if they want to have children, they can raise their children and have them go to school here in Virginia. We need to make sure that the jobs are here that will challenge them and stimulate them, with those advanced degrees that they get from Virginia Tech and then we need to make sure that we have the amenities and the culture that's going to make sure that we retain that amazing talent that we train and develop at Virginia Tech and Radford University and the medical schools up in Roanoke and all of the wonderful higher education we have in Southwest Virginia.
Ava Rosa: Thank you Mr. Hurst. I promised just three questions, but as you know, I always give guests a chance to speak to my readers, many of whom, are probably hearing from you for the first time as a candidate.
Chris Hurst: Well, thank you very much, Ava. I'm still very proud of all that you've been able to accomplish and I'm honored that you would choose me to be your first repeat visitor on your show. I want everybody to know who's reading this, that this to me, became my plan B. This became the dream that I wanted to chase after and it's amazing to see the support that I've been able to get as I continue to chase my dream. This dream now, is becoming a reality and I am very, very happy about that.
I'm sure that many grown-ups find themselves thinking about what they would do if they quit their jobs and followed their dream. Chris Hurst is actually doing it. I wish him well and look forward to seeing what becomes of his plan B. It's a bold one. For Three Questions with Ava Rosa and Growing Up in the Valley, thank you for reading.