4 nursery design trends you'll love now – and later!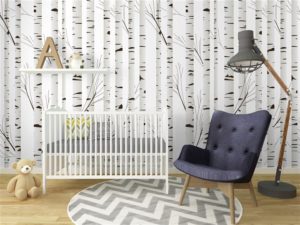 (BPT) – When you're decorating a nursery, it makes sense to design a room that pleases you as much as it will thrill your little one — after all, you'll be spending as much time in the room as your baby, if not more! You crave a room that you can love for its beauty and functionality, but you also want it to be trendy and fun. Here are four nursery design trends that can help you create a room that fits your design tastes and will thrill your little one:
Whimsical woodlands
An earthy trend is bringing the great outdoors into nursery design. A woodland theme in a nursery is the perfect stepping stone to get imaginations spinning and curiosity for nature growing. There is a warmth and coziness that comes from nature-inspired decor. Think fuzzy animal mobiles, natural wooden accents, and a whimsical birch tree wall mural from Murals Your Way to create a space where you're little one will feel calm and peaceful. Birch not your thing? Murals Your Way has thousands of nursery friendly options to choose from, or upload your own image to create a one-of-a-kind space- for your one-of-a-kind bundle.
Pastels are back
Soft colors and baby's nursery go together like peas and carrots, so it's no surprise that pastels are back and better than ever! On the heels of Pantone's announcement of not one, but two pastels, Rose Quartz and Serenity as colors of the year, this trend is legit. These shades add a slight twist on the traditional pink and blue: Rose Quartz is a softer pink with a hint of peach, and Serenity is a periwinkle blue with shades of lavender pushing through. Other popular pastels are lilac, lemon drop and pale green as seen on Babyletto's new Bingo 3-Drawer Changer Dresser, which has pops of pale green accents.
Creative cribs
Traditional nursery furniture has long included a crib, changing table and a rocking chair where parents can sit for those late-night feedings. Today, parents are thinking outside the crib when choosing furnishings for their baby's room. Cribs can be a design statement instead of just a place where baby sleeps. From minimalist cribs with slender railings that evoke a graceful, modern air, to acrylic cribs that afford parents a completely unobstructed view of their little ones, parents are branching out from traditional wood frame cribs. You can also find oval and round cribs, like the convertible Stokke Sleepi Crib/Bed, compact and portable bassinets that can go from baby's room to fitting neatly next to adult beds, and cribs that convert into toddler beds when your baby becomes a child.
Gender-neutral nursery
He or she, what will it be? If you're planning to be surprised by your baby's gender, design a gender neutral nursery that works for either a boy or a girl. Moving away from the standard yellow or green for "surprise" babies, start with a color palette using subtle tones, like heather gray, beige and rich charcoal. To avoid "boring," layer in lots of texture and organic materials like natural wood furniture, linen curtains, fluffy pillows and soft rugs like the RH Baby & Child chunky braided wool rug in cream. A plus with this trend is that you can pair this gender-neutral palette with accessories of any color, should you want to add in a pale pink or navy blue blanket after the baby's arrival.