7 Recycled Crafts for Summer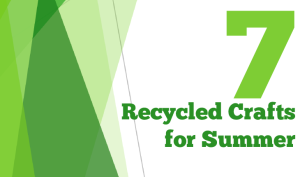 Use these common household items to create something new and fun! We've rounded up our favorite recycled crafts for summer- perfect for a rainy day or when the heat just won't let up.
1. Milk Jug Garden Planters
Eyes On Nature shared how they turned their 1/2 gallon milk jugs into the perfect flower planters in their backyard.
---
2. Cereal Box Post Cards
Send your friends and families fun post cards with these awesome recycled postcards on Infarrantly Creative.
---
3. Soda Bottle Bird House
Turn plastic soda bottles into adorable bird houses! Creative Crafting Nights painted theirs, but it would also work with modge-podge & fabric.
---
4. Cardboard Woven Basket
Use  Cuciucicoo's instructions to use recycled cardboard boxes to make these handy woven baskets.
---
5. Plastic Bag Bracelets
Make it Easy Crafts shares how to turn those left over plastic bags into fun wearable art!
---
6. Tin Can Lanterns
Puncture holes into an empty tin can to create a personalized lantern. See examples at Jolly Mom. (Theirs are personalized for halloween, but it would be a great 4th of July craft!)
---
7. Magazine Envelopes
Jazz up your handwritten letters & cards with these funky envelopes made from old magazine pages. Idea & instructions on Hey Wanderer.
Growing Up in the Valley will see YOU at The Blue Ridge Land Conservancy Fun Run in the Sun, June 13  at Green Hill Park!