Add a Pool to Your Backyard

Most public pools, and water parks  are closed until further notice due to the pandemic. Kids are still able to cool off this summer! We've noticed a number of backyard pools popping up though out the region. Whether it's an in-ground pool or an inflatable one, here are some backyard pool tips for families.
Safety First
Most drownings for kids ages 4 and under occur in home pools, according to a study by the U.S. Consumer Product Safety Commission. Keep these tips in mind when adding a backyard pool:
Be an active water watcher. Even if your kids know how to swim, it's important that an adult is there to supervise. Don't be distracted by looking at your phone or doing other activities.
Learn CPR. Parents can enroll into CPR training to be prepared if an emergency happens. American Red Cross is offering virtual CPR classes.
Use a pool cover. Kids can drown in less than 2 inches of water. Use a secure lid that covers the entire pool and prevents a child from slipping in.
Consider swimming lessons. Some swimming schools are beginning to reopen to help educate families on water safety.
Install pool fences. Depending on the size of your pool, adding a fence around it can prevent younger children wandering to the area and falling in the pool.
Add a pool alarm. This item is worth the investment to keep your family alerted. Here are some suggestions of the best pool alarms.
Find more home swimming pool prevention tips at healthychildren.org.
Quick Backyard Pool Options
Inflatable and temporary pools are in high demand this summer. Here are some quick above-ground pool options for families looking to buy right now:
Perfect for babies and toddlers, this bright-colored kiddie pool will keep them entertained until nap time.
Older kids can splash around in this inflatable that's easy to assemble. If you have an electric pump, you can inflate this pool in 5 minutes or less.
Bring back the classic backyard pool feel with a metal frame. Intex has quite the selection if you're looking for a bigger pool.
Sprinkler Options When You Have No Space
Not everyone has the space for a pool!  Check out these awesome finds on Amazon!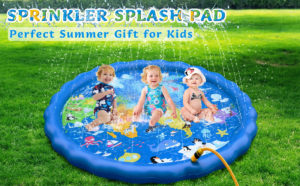 A shallow pool makes it safe for baby while being fun!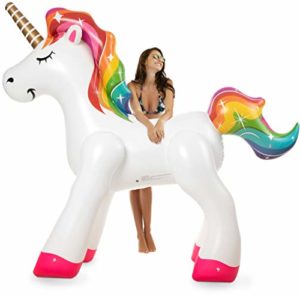 A bit pricey - but IT IS A 7 FOOT TALL UNICORN!!!
DIY Pool Hacks
A backyard pool comes with a few responsibilities. Here are some hacks to make your summer a little bit easier:
Pool Games for Kids
Now that you've got the pool and know how to be safe when using it, have a blast this summer with these pool games:
Make pool noodle light sabers. Your younger Star Wars fans will love to help out with this DIY project.
Cut up a sponge ball. Use inexpensive sponges to assemble this colorful sponge ball.
Go fishing. Try out this homemade fishing game. You'll have cut out pool noodles and gluing on google eyes to make them look like fish.
Toss rings. If your family loves inflatables, then they'll love this inflatable cactus ring toss set.
Play squirt gun races. Tie strings from one side of the pool to the other as you squirt plastic cups as fast as you can. The first cup to make it to the end wins the race!
Learn math. For littles ones learning numbers, set up these easy games to make math fun.
Share This: