Inspiring New Perspectives Through ART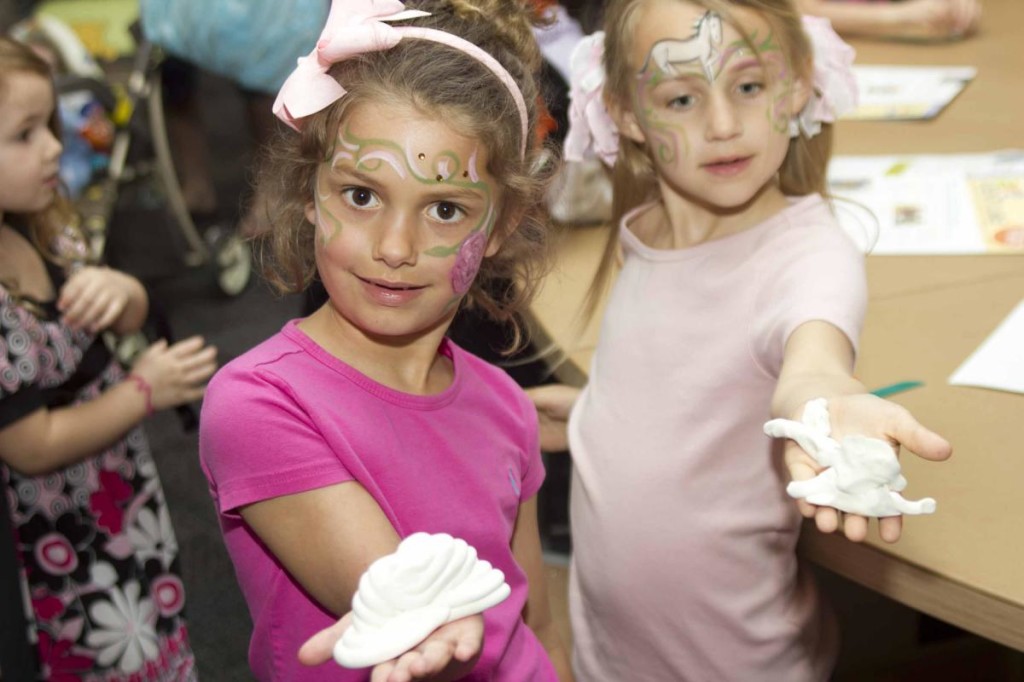 Looking for a place to jump into the art world with your children? Look no further than Art Venture at the Taubman Museum of Art in downtown Roanoke. This interactive exploratory gallery has thirteen stations integrating the arts with imagination for all. Station activities range from drawing to sculpture to theater and much more. Everyone can find something in Art Venture to expand their minds, get them moving, and discover their inner artist. Activities related to the exhibitions and programming are continuously changing in this hands-on interactive learning space, making each visit a new adventure!
The museum's programming offers an abundance of opportunities to explore and create in Art Venture including Gallery Art Workshops which are weekly children's art classes held year- round. These workshops are opportunities for children from newborn to 14 years old to connect with art in new and enjoyable ways. Best of all –the workshops are free for museum members and only $5 for non-members. It provides unique opportunities to connect with significant and inspiring works of art at the museum. For parents and pre-toddlers, it's a chance for them to discover together – and older children can explore new mediums and creative processes.
"Art Venture has meant a lot to my family," says Stacey Tear, Art Venture visitor. "When we moved to Roanoke from San Diego, I was looking forward to visiting the museum with my three kids, but I had no idea what a great experience it would be. Over the last few months, we have been back many times to explore, and be inspired."
"The arts celebrate multiple PERSPECTIVES. One of their large lessons
is that there are many ways to SEE and INTERPRET the world."
EXPLORE SCULPTURE
Be inspired by original works of art. Make a day trip and visit the Taubman Museum of Art which has free general admission. Explore, observe, and create sculpture with your child.
Using your hands to demonstrate, how do you think the artist might have modeled this sculpture?
What materials were used to create each sculpture?
Select 4 adjectives to describe the different sculptures.
MAKING
In Art Venture the Sculpture Table is filled with various building activities that rotate. This includes hand building activities with clay, wire, and paper that take place at this 9 feet in diameter table as well as block building, puzzling, and memory games. One of the favorites of visitors of all ages is creating a sculpture out of Model Magic®.
What You'll Need
Model Magic® is a sculpting material our visitors enjoy. Try different types of clay and find your own favorite.
Sculpting tools: look around the house for scissors, a plastic knife or fork, straws, chopsticks, etc.
Easy to paint or decorate with markers.
Model Magic® air-dries to a smooth, resilient finish, usually within 24 hours.
Activity
Be inspired by sculptures from different artists.
Use a variety of hand techniques including flattening, rolling, pinching, and indenting.
By rolling the clay back and forth with your fingertips or palms, you can create snakes, snails, or coils. Stack the coils one on top of the other to build larger shapes. Wrap coils into a bowl for a coil pot.
Use common household tools to add texture or decorations to your sculpture. You can also cut it with scissors or wrap it around objects to form shapes.
Art Venture, the museum's interactive, exploratory gallery where visitors discover, create, and participate at multiple hands-on stations.
Remember a trip with your family to the Taubman Museum of Art is free and a destination for a Roanoke day trip. Combine it with other activities within walking distance in downtown Roanoke. Art Venture is open Tuesday – Saturday, 10am-5pm with special programming on each Spectacular Saturday. Enjoy the Southwest Virginia Ballet at 2pm on March 8 and Explore all the Senses on March 15. There is a special rate for groups in Art Venture and for tours.  Visit www.taubmanmuseum.org for group fees and programming details.