Save This Buy That: Bring On The BBQ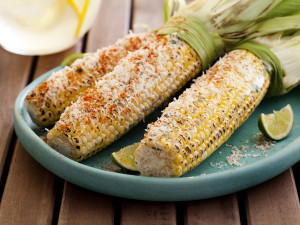 Grilled Corn $0.57 per serving
Ingredients:
Whole Corn
Shredded Parmesan Cheese
Chili Powder
Remove the husks of the corn, but leave core for easier handling.
Grill the corn on a hot grill or cast iron griddle pan until slightly charred, turning for even cooking.
Smother with parmesan cheese and chili pepper to taste.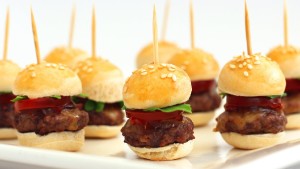 Hamburger Sliders $1.20 per serving
Ingredients:
Dinner Rolls
Ground Hamburger
Lettuce
Tomato
Sliced Cheese
Prepare hamburger with salt & pepper. Form into 1/4 size hamburger patties.
Grill until well-done. (optional: Use boneless chicken breast quarters for BBQ Chicken Sliders)
Slice open dinner rolls, top with favorite hamburger condiments.
Ingredients:
Spiral Noodles
Broccoli
Tomato
Black Olives
1/2 Cup of Mayonnaise
 4 Tablespoons of Apple Cider Vinegar
Cook noodles, drain & set in fridge to cool.
Dice broccoli, tomato and black olives. (optional vegetables: summer squash, cucumber, onion, or bell peppers) Toss into cooled noodles.
Mix together mayonnaise and vinegar, with optional salt & pepper to taste, and pour over noodle mixture. Stir to combine and serve!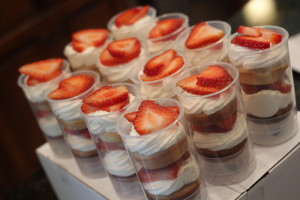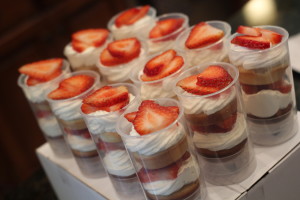 Strawberry Parfait $0.42 per serving
Ingredients 
Sliced Strawberries
Whipped Cream
Vanilla Cake Mix
Cook vanilla cupcakes according to package directions. Set aside to cool.
Slice strawberries into thin slices. Cut cooled cupcake in half.
Layer cupcake halves, whipped cream, and sliced strawberries in tall glasses.