Blue Eagle Credit Union Community Partnership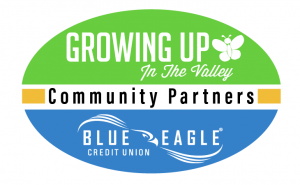 As the region's only parenting magazine, Growing Up in the Valley has become the most read magazine in the region thanks to the support that you and your school have shown us throughout the years.
Over the five years that GUITV has been on the shelves, we have been to hundreds of events including MANY school carnivals, festivals and celebrations.
In 2017, we are teaming with Blue Eagle Credit Union to bring this participation to a whole new level!  With help from Blue Eagle, Growing Up in the Valley Magazine will make a larger impact this year by offering a great new program for schools and their PTAs to consider.
Growing Up In the Valley and Blue Eagle Credit Union would like to provide your school our services as a Paparazzi style photo booth!  We will set up and take pictures of your guests and publish a select amount in our pages, and publish all of them online at Growingupinthevalley.com.  Your students will LOVE the fact that they will be seen in our pages and this activity will offer your PTA a free – hands off addition to your entertainment lineup!
We will also provide promotional items at your event, a door prize and an appearance by our mascot Flutter!  All courtesy of Growing Up In the Valley and our Community Partner, Blue Eagle Credit Union!
Why are we doing this all for free?  Growing Up In the Valley and Blue Eagle Credit Union believe in you and your kids.  We want to help you succeed in raising and teaching the youth of today to be the leaders of tomorrow.  Teachers are one of the most important people in a child's life and school is the foundation for their growth.  We want to support that in every way we can.
Please fill out the form below to reserve your date and lock in our participation of your next great School Event!