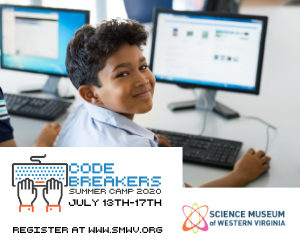 Code Breakers Summer Camp
Code Breakers is a brand new Summer Camp that introduces kids to the basics of coding and software in fun, interactive, and effective ways. Our curriculum breaks down complex topics using teambuilding games and project-based activities that encourage creative input and problem solving, while also limiting scene time. With age-appropriate challenges that allow for self-paced learning, logical thinking, and that use real-world examples, camp attendees will understand tricky concepts with ease! 
But why is coding so important?
Coding is the foundation of computer science, and it instructs computers and machines that we use every day to perform different actions. It's what we as humans use to create software such as websites, apps, and other technologies. Those that are fluent in code possess the modern world's most in-demand skills, with programming jobs predicted to grow by over 30% in the next decade, and averaging six figure salaries. Like with any foreign language, the younger you start learning it, the more likely you are to master the skill!
By the end of the week, camp attendees will have the skills that will put them on a path to become the next Google developers, video game designers, web developers, or entrepreneurs who build a business from the ground up. Whatever your child's future career or current interests, understanding basic programming and coding skills will set them up for a lifetime of success by giving them an edge in virtually every modern day industry.
Go to www.smwv.org to register your child for our Code Breakers Summer Camp, and to explore our other Summer Camp programs. For more information, call 540.342.5710 or email frontdesk@smwv.org. 
Date: July 13th-17th   
Time: 9am-4pm
Location: Science Museum of Western Virginia
      1 Market Square, 4th Floor
      Roanoke, VA 24011
Cost: $225 for members; $250 for non-members
Capacity: 15
Age: K-5th Grade
Summer Camps at the Science Museum of Western Virginia combine hands-on activities, thought-provoking challenges and passionate instructors to inspire a love of STEM subjects. Science-based Summer Camps are essential in maintaining STEM skills that are developed throughout the school term and often deplete over summer break. 
For those that need a more flexible schedule, the Science Museum also offers Before- and After-Care for any campers who need to be dropped off early or picked up late.

Share This: