It's no secret that during the first few months of the year many Americans wrestle with the ever-popular New Year's Resolution: to get healthy and lose weight. With 2014 in full swing it can be easy to lose some of that motivation, especially for a busy family on-the-go. Dieticians at the Academy of Nutrition and Dietetics explain that eating out doesn't have to mean sacrificing nutritional content. The AND outlines several strategies for smart-eating, including making meal decisions in advance, bringing snacks along, and choosing wisely at chain restaurants.
What to Eat? 
Many popular weight-loss programs and diet plans over the years have promoted the misconception that being healthy simply means cutting calories and fat content. While there is truth to the concept that taking in less calories than one burns will promote weight loss, most nutritional scientists agree that Americans have been missing the mark when it comes to understanding what adequate nutrition fully entails.
Dr. Joel Fuhrman, M.D. is a board-certified family physician, New York Times best-selling author and nutritional researcher who specializes in preventing and reversing disease through nutritional and natural methods. According to Fuhrman and his team, the majority of Americans eat a diet comprised of about 60% processed foods. Processed foods go through procedures of cleaning, adding sugars, salt, and other chemicals. These foods generally contain a lot of chemicals in order to maintain a longer shelf life, and can usually be found packaged in the center of the grocery store. Packaged cookies, cakes, soups, pastas and even artificially sweetened "health food" often labeled, low fat, low sodium or low carb can add unnecessary and harmful chemicals to one's diet. Researchers in the past twenty years have identified the key to healthy eating as the consumption of large amounts of what Fuhrman refers to as "nutrient dense' foods. These foods, which are high in nutrients and lower in calories, contain disease-fighting micronutrients. Leafy green and non-starchy vegetables, fruits, beans/legumes, seeds and nuts are the produce and natural non-processed foods rich in these powerful micronutrients. Fuhrman uses his own version of the food pyramid called the "Nutritarian Pyramid" to show what he and other nutritional researchers believe makes up a healthy diet.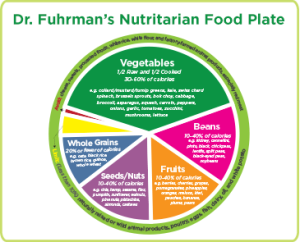 Where Does Your Food Come From? 
Many local restaurants post nutritional content on websites and even McDonald's puts nutrition facts on the packaging of their meal items. Have you ever given thought to how far your food travels to get to your restaurant or grocery store? Some restaurants provide fresh meat and produce that is locally grown. Buying and eating from local sources is not only better for your diet; it also supports the region's economy. Roanoke is lucky enough to have the award-winning Roanoke City Market where fresh fruits, vegetables, and meats are sold by local farms. Downtown Roanoke Inc assures,
"Everything sold in the market area has been certified as 'locally grown,' meaning you are purchasing fresh, quality products that aren't weighted down by chemicals and preservatives to make a long journey from an unnamed farm to your kitchen table. Each day, the products sold at our market are arriving fresh from a local farm that's been inspected and approved as meeting all health and sanitation codes as well as statewide agricultural requirements."
The Roanoke area also has several vegetarian and vegan-friendly restaurant options that offer menu items with local farmer's market produce. Little Green Hive, Firefly Fare and Nawab Indian Cuisine are just of few of these.
Casual Dining
 In a recent issue, Health Magazine researched America's healthiest chain restaurants and compiled a list of their "Best Casual Dining Spots". Perhaps surprisingly to some, among those included were Bob Evans, Olive Garden, and even Denny's. Ruby Tuesday, Romano's Macaroni Grill, and P.F. Chang's also made the list. Health highlights some "danger zones" which no doubt make appearances on nearly any restaurant menu. Still, with a little bit of preparation and planning ahead, Health explains that eating at your favorite spots doesn't have to mean regret the next day. For example, Ruby Tuesday offers organic greens, hormone-free chicken, trans fat–free frying oil, and natural beverages including Jones organic teas and made-to-order drinks like all natural lemonades with real fruit juice. Nutritious options and basic nutrition facts are also noted on the menu.
Dr. Fuhrman says it's not necessary to forego the restaurant dining experience completely.
"I look for restaurants that have healthy choices," he explains. "Most restaurants have web sites and make their menus available on-line. Many places will make special accommodations. Call ahead and ask. I recommend eating dinner at a nearby Whole Foods Market or other healthy (place) that has a large salad bar. Many of the Whole Foods stores not only have salad bars, but cooked options too, such as steamed vegetables and veggie soups."
Fast Food
There are those days when soccer practice, piano recital, and girl scouts all seem to fall on the same day. Most families on-the-go have times when pulling up to the drive-thru seems to be the only viable option. Even in these situations, it is possible to make healthier choices. The Daily Meal researched sixteen fast-food restaurants and came up with some great alternatives to the typical greasy burger and fries. One of these alternatives is found at Chipotle, where the burrito bowls and salads contain fresh ingredients, including options to add beans, fresh tomato salsa, lettuce, and guacamole. Most options which include beans and/or meats like barbacoa, steak, and hormone-free grilled chicken, provide between 30 and 40 grams of protein.
Wendy's Garden Sensations Salads are available in full or half-sizes and contain fibrous greens, nuts, and around 20 grams of protein. Still, some salad choices are the wrong way to go. Burger King's Chicken Apple & Cranberry Garden Fresh Salad contains a whopping 30 grams of fat, though they also offer the BK VEGGIE Burger which contains only 7 grams of fat. If you must get French fries, believe it or not Sonic Drive-In's regular fries are the lowest in calories, fat grams, percentage of calories from fat and "bad fats," according to an analysis by Elaine Magee, MPH, RD. She found that McDonald's came in second out of fourteen other fast-food places.
What to Bring Along
According to the National Restaurant Association, close to twenty-five percent of people eat a "commercially prepared, typically unhealthy lunch five or more times per week." This adds up to about 218 meals per year away from home. These meals eaten on the road can make it difficult to stick to a nutritious lifestyle.
Dr. Fuhrman considers lunch, not breakfast, the most important meal of the day.  Since most people work outside of the home for a large part of the day, he says that choosing healthy, nutrition-rich options are essential to feeling sustained and nourished all day. Dr. Fuhrman suggests packing "nutrient-dense" lunch or snack items when possible to prevent yourself from getting too hungry and making unhealthy choices. Many less-than-healthy choices are often made as a result of cravings and drops in blood sugar. Dr. Fuhrman continues that bringing along healthy options can also "make the day less stressful by eliminating the need to run around town searching for healthy options. It can also be more economical."
He outlines some of his favorite nutrient-rich snack options:
"Cut up veggies and dip can be a tasty and fun addition to any lunch box. Try baby carrots, celery sticks, red pepper strips, snow peas, raw string beans, raw broccoli, raw cauliflower, cherry tomatoes, cut-up cucumbers or romaine lettuce leaves with dips."
Check out Dr. Fuhrman's website for loads of delicious recipes and ideas for healthy options. Dr. Finally, he offers a little encouragement.
"Luckily, if you are committed to following a nutrient-dense diet, you do not have to leave your healthy eating habits at home. With a little pre-planning and thinking outside the box, it is possible to relax and make healthy food choices even when you are not at home."
Websites to Research and Apps to Help
HappyCow is a website and app available for Android and iPhone. After setting your location, this app will look up health food stores, as well as restaurants with vegetarian and vegan options in the area you choose.
Dr. Fuhrman's Nutritarian Information
Healthy Baked Goods in the Roanoke Area
America's Healthiest Restaurants