Emergency Preparation Bags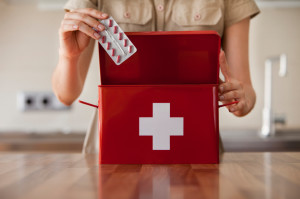 This past storm reminded me that I forgot to update our families emergency bags (sometimes called 72 hour kits) this past April. These bags are recommended by the government to help families survive through bad storms like Hurricanes Katrina and Sandy. This is the tree that welcomed us home from vacation- and ruined our chances of getting our power restored quickly.
Clothes:
2 changes of clothes per person, 1 for warm weather 1 for cold.
1 pair of pajamas
3 pairs of socks
2 changes of underwear
1 rain poncho
Bathroom Supplies:
2 travel packs of tissues
Toothbrush
Tooth Paste
Travel Soap
Travel shampoo & conditioner
Sunblock
Wet wipes
Diapers (for those who need them)
Feminine products (for those who need them)
2 folded grocery bags (for trash or wet clothes)
Food:
3 days worth of Ready-Eat-Meals
3 days worth of water packets & 1 water bottle
1 pack of gum
Small favorite snack (Goldfish for toddler, jelly beans for parents)
Copies or Extra prescription medications
Tylenol
Others: (these items aren't in each bag, but spread throughout all three bags.)
Hand Crank flashlights
Blankets/Sleeping bags
Hand crank radio
Cash
Lighter
Spare Cellphone batteries, chargers
small waterproof toys
Paperwork- Keep copies of:
Birth certificates
Insurance information (medical, home and car)
Drivers license/ Passport
Social Security Cards
(Remember to keep this information safe and secure! We keep the originals in a fire proof safe and the copies in our packs)
These bags are meant to be the bare minimum for survival in an emergency evacuation situation but I couldn't help pepper in a few fun things. Our daughter's pack has crayons and a small notebook, a few toys like small cars and a pack of balloons. We order food especially for emergency purposes. It has been the cheapest and most space saving option for our family. Every six months, when we change the clocks & change the smoke detector batteries, we go through the bags and double check clothes sizes, food expiration dates and update the medications.
What other emergency safety tips does your family follow- do you have an annual fire drill or safety meetings? Let us know in the comments!