Fit Family Challenge is Coming!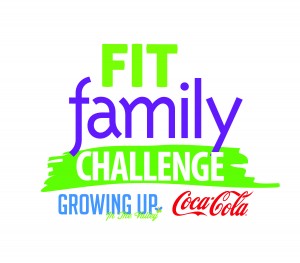 What is the Fit Family Challenge?
It's a Challenge to get healthy and keep your kids active too. We know! So we designed the Fit Family Challenge to make it more fun and rewarding for everyone! The Fit Family Challenge is a no-cost healthy lifestyle program for families. This year, we're taking the Challenge to Kentucky, The Carolinas, Tennessee and Virginia. Parenting magazines and partner publications in each region are helping us motivate families to get moving and create healthier lifestyles. To be considered as a spotlight family, register at the link above. To participate in the Challenge for prizes, register online and come back in the spring to track activities and join in the fun. The Fit Family Challenge is brought to you by Coca-Cola!
How can I participate and what will it cost?
The Fit Family Challenge is FREE and runs for eight (8) weeks. You don't have to be a Spotlight Family to participate and win prizes! To get started, come back this Spring and start logging your family's minutes of physical activity and healthy habits in the Fit Family Challenge mobile-friendly Activity Tracker. The more activity you log, the more points you earn, and the more chances  you have to win. Register anytime!  We will send you an email when the Challenge officially kicks off in your area! You don't want to miss a day. Prizes are awarded by random drawing weekly, with bonus prizes throughout the 8-week Challenge. With a minimum of 100 points you are  eligible to be entered in random drawings. It's easy! Look at our points system below.
POINTS: (per family member)
1) Log 150 minutes per week of activity = [100 points and up to 200 points per week]
2) Log daily Healthy Habits = [10 points each] Select up to five healthy habits daily to earn more points.
3) Bonus Points: Attend select events or classes* =  [100 points each] Enter promo code provided at event/class.
Families are considered one unit and family points are combined. (i.e. the Jones family earns 300 points = 3 chances to win the prize drawing.) However, points are earned individually for minutes of activity and healthy habits. So, Mom or Dad, you can't benefit from Junior's active lifestyle. You gotta get active too. So work together to build up points and get healthy!
Do I have to attend classes or events to win?
You do not have to attend events or classes to win, but we encourage your family to attend as many fitness classes and special events as possible. Each select event or class attended earns you 100 bonus points. Classes are free or low cost. Download a free class pass for eligible classes after logging into your Fit Family Challenge account. Check back in the Spring to find a full list of classes and available class passes.
How do we maintain our healthy lifestyle after the Fit Family Challenge?
The Fit Family Challenge will teach you a lot about fitness and good nutrition. You can keep it up throughout the year. Check back to www.MyFitFamilyChallenge.com for tips and healthy activities all year. Make it yours!! We're confident, that if you follow the Challenge and get active for 30 days, you set a habit and be on your way to dopting a healthier lifestyle for your children, yourself and your entire family!
QUESTIONS?  E-mail us!