Fit Family Challenge starts soon!
Did you know the "Fit Family Challenge" starts this Sunday, May 1st?! This is the first year that it's been offered in our area and I'm so
excited that "Growing Up In The Valley" Roanoke VA magazine is running it.
Our family found out last month that we were selected as one of the local "spotlight families" for this challenge. What does that mean? Our family will be sharing weekly pictures and fitness recaps here on the blog, hopefully giving you and your family ideas on ways to be active at the gym, park, or anywhere outside! We will also be working with a nutritionist and a personal trainer at the Kirk YMCA, and I can't wait to share what we learn with all of you!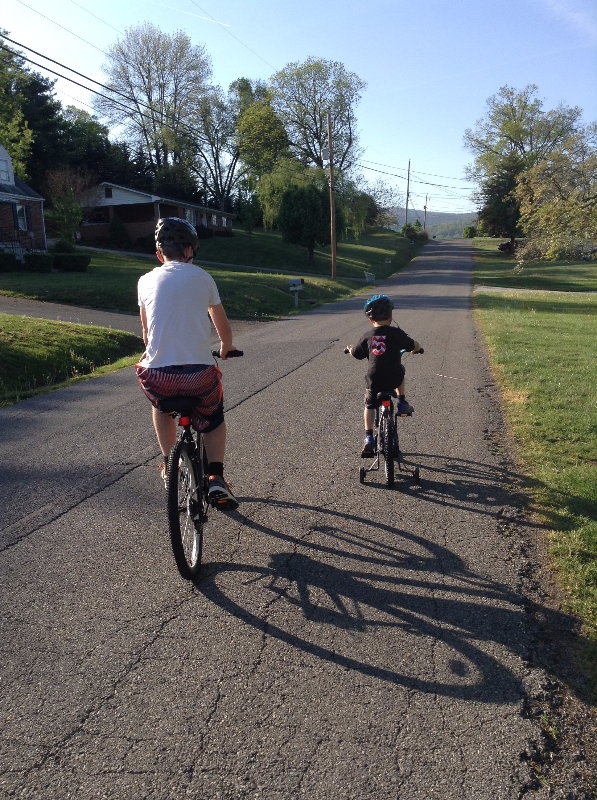 We are a normal family just like you-working full-time, going to school, busy at church and at home… we are not fitness professionals or experts. Our family goal is to find ways for us to be active together as a family and to make fitness and eating healthy more of a priority. We will have ups and downs I'm sure during these 8 weeks, and I hope you will join our family so we can encourage and support each other on this journey!
Even though the challenge and points don't start until Sunday, we've started calendaring at least 1 day a week for doing a family fitness activity. Last week the boys rode bikes in the neighborhood while I walked along side them. We also participated in The Color Run this past Saturday in Salem which was a lot of fun!
The Fit Family Challenge is a FREE healthy lifestyle 8 week program that offers free classes, expert advice and nutrition tips. Starting May 1st, you will be able to use the handy online fitness tracker to keep your family on track once you register. You will want to enter your activities and healthy habits daily to earn points and win prizes!
You can register here:
www.myfitfamilychallenge.com/VA
One of the things our family is excited about is all the free classes and activities that local businesses and trainers are offering JUST for participants of this challenge!
My almost 6-year-old is really excited about swimming at the Y and my 14-year-old is excited about jumping at the trampoline park. I personally have worked with Ferguson Fitness and PlayFitStayFit personal trainers and they are outstanding, so I can't wait to take their classes.
Here is a list of the local Fit Family Challenge FREE Classes and Activities:
http://roanoke.family/ffc
Still have questions about the challenge? Check out the FAQ page here:
https://www.myfitfamilychallenge.com/faq.php
Hope to see you at the Challenge Kick off event this Sunday, May 1st at Star City Skate Center!
Facebook event details here: https://www.facebook.com/events/1289452847749090/