Henrico teacher receives a free "Thank-You" vacation She wins trip in Virginia Lottery's "Thank a Teacher" campaign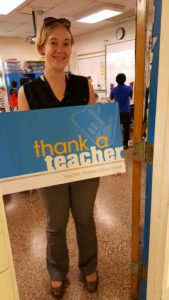 Thousands of Virginia educators received a thank-you note in the Virginia Lottery's "Thank a Teacher" campaign. Sarah Stultz of Ruby Carver Elementary School in Henrico received that and a lot more! She won a four-day, three-night Virginia-themed vacation courtesy of the Lottery and the Virginia Tourism Corporation.
Her name was drawn from nearly 5,000 teachers who entered their thank-you notes in the prize drawing. On June 6, Virginia Lottery officials surprised her at the school with the good news. The fifth-grade teacher now has a choice of taking a beach-lovers, mountain-lovers or wine-lovers vacation.
The "Thank a Teacher" campaign kicked off on April 3, several weeks before National Teacher Appreciation Week (May 8-12), and lasted through May 19. During that timeframe, more than 35,000 thank-you notes were distributed by the Lottery to PTAs, and to the public from retailer and consumer events. Virginians could use the blank cards to send a note to the teacher or teachers who've made a difference in their lives. They also could send it electronically from valottery.com/thankateacher.
When teachers received the thank-you notes, they could use a unique web code on the note to enter for the grand prize. New this year was a partnership with Virginia Department of Rail and Public Transportation, and consists of four round-trip Amtrak tickets to anywhere in the northeast corridor from Virginia to Boston. The winner of that prize was Carly Campton, a sixth-grade Language Arts teacher from Salem Church Middle School in Chesterfield County. The third prize, a $250 VISA gift card, was awarded to Beth Swain, eighth-grade Math teacher at Andrew Lewis Middle School in Salem.
"Because the Virginia Lottery's mission is to generate funds for K-12 schools, we get the chance to meet many teachers and see close-up how hard they work," said Virginia Lottery Executive Director Paula Otto. "It was gratifying to see the response to this campaign was even stronger in the second year of this initiative. It's clear that people want to thank the memorable teacher – or teachers – in their lives."
The "Thank a Teacher" campaign is a unique partnership between the Virginia Lottery, two other Virginia agencies (Virginia Tourism Corporation and Virginia Department of Rail and Public Transportation) and the Virginia PTA. It's a forum to celebrate those teachers whose hard work and inspiration have made a difference in so many lives.
When it comes to education, the Virginia Lottery is game.  In fact, it's the reason we play.  We generate more than $1.6 million per day for Virginia's K-12 public schools.  Operating entirely on revenue from the sale of Lottery products, the Virginia Lottery generated more than a half-billion dollars for Virginia's public schools in Fiscal Year 2016. For more info, visit our website, like us on Facebook, follow us on Twitter and Instagram and check us out on YouTube. Please play responsibly.
Help the Virginia Lottery, Virginia PTA and Virginia Tourism Corporation celebrate Teacher Appreciation Week (May 7-11).
Visit www.thankateacherva.com to send a note to a teacher, who then can enter online for a chance to win fun prizes, including one of two vacation packages from the Virginia Tourism Corporation!