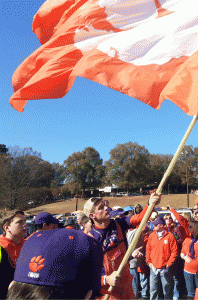 I had a pretty good 2016. Here's how I know.
There were so many times throughout the year when I would have given anything to be able to pick up the phone and call my Nana. But I couldn't. This is such a bittersweet thing. I miss her so, but am also grateful to have had someone in my life whom I love so much that it hurts. Throughout 2016 there were so many moments that I wished I could have shared with her, many of them having to do with football, as she was an extreme fan of the sport. In fact, she always said she got a little depressed when football season was over. She would have loved to hear about my son being pulled up to varsity and his team winning the state championship. She would have loved to watch the Dallas Cowboys have a top-notch season with a shot at the big stage, only to just fall short. And she would have loved to have celebrated New Year's Eve watching my Clemson Tigers defeat Ohio State and earn a spot in the National Championship. She was a true Virginia Tech Hokie, but had a fondness for Clemson that grew when she came down to visit me at college a handful of times. She loved those trips and would bring them up to me often, relishing in the memories. So, I know Nana would have enjoyed how 2016 wrapped up.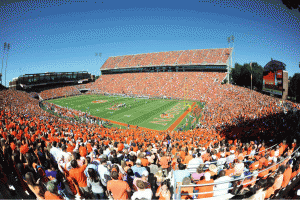 The football hype continued on into the new year. On Monday night, January 9, I stayed up a little too late, 2:30 a.m. in fact, on a school night, watching post-game coverage of the National Championship. It was worth it. Now, let me clarify that I realize there is more to life than football. If my team would have lost, I would have had to endure a little trash talk from the Alabama fans at my school, and then I would have moved on, still proud of my team. But that is not how this story ends. As cliché as it may sound, it has the plot of a "rags to riches," Cinderella story. It also has depth, likeable characters, themes, conflicts and suspense. This was more than a football game. So in case you missed it, or in case, to you, it was just a game, let me fill you in.
Let's start with one of the main characters—quarterback Deshaun Watson. He has been a superstar for Clemson from the get-go, but has had to overcome his share of setbacks as an athlete. However, this is nothing new for the two-time Heisman-nominated QB. Watson grew up in the projects until his mom took the necessary steps to earn a Habitat for Humanity home for her family, which has led Watson to become a spokesman for the organization. He is built to overcome. His freshman year he faced several injuries, including a torn ACL, but still helped lead the Tigers to a top 25-finish and big bowl win over the Oklahoma Sooners. His second year, he lead his team to an undefeated season, an ACC Championship, and a National Championship appearance. The Tigers, however, fell short in the matchup against Alabama, ending up as the number two team in the country.
Now to the 2016 season. The regular season didn't exactly go as hoped. Several close games and a loss to Pittsburgh had much of the football community doubting the Tigers. Yet, after winning out and securing an ACC Championship, the Tigers were back in the playoffs. They easily rolled over Ohio State and found themselves on the same stage facing the same team, Alabama. Watson started the game off slow. He did not seem his typical calm and focused self. "Get it together," I kept thinking. Deep down, I knew he would. He found his niche, and got the Tigers back into the game, ultimately bringing the decision down to the final seconds. As the clock wound down, Clemson was down by three. A field goal would send it to overtime, but no. The team lived out its motto—All In. Time for one more play. A quick pass to Hunter Renfrow in the end zone and the rest is history. Clemson had won its first National Championship since 1981.
Now, let's talk about this Renfrow kid.
The previous season, as a redshirt freshman walk-on, the 5-foot-10, 175 pound wide-receiver played a major role, scoring two touchdowns in the National Championship. This time around he not only made the game-winning catch, but also made a major tackle after a fumble, preventing an Alabama touchdown and forcing a field goal instead. This kid could be the poster child for following your dreams. And what did this undersized, walk-on with the game winning catch do when interviewed after the game?—remained humble and refused for the spotlight to be on him.
The mentality of these players, while most likely somewhat innate, was further encouraged by head coach Dabo Swinney. Swinney's story is also one of humility and inspiration. He, too, was a football walk-on at none other than the University of Alabama. Getting there and staying there was not an easy road for him. From encouraging and forgiving his father who struggled with alcoholism to inviting his mother to move in with him and his college roommate, Swinney's past reveals a sense of compassion and empathy that is hard to come by. His life was a series of overcoming obstacles, big ones, which makes his success story all the sweeter. He came to Clemson with a mission. He had his sights set high from the beginning, realizing that there was no reason they couldn't get top recruits and create a football dynasty.
After the National Championship win, Swinney gave credit to God, but not for the win. He said it was only God that could have taken a guy like him and gotten him to where he is today. He then told the nation that the game's deciding factor was love. He said he told the team at halftime that he knew they were going to win because they love each other. Wow. Not talent, not even hard work. Love. In fact, Swinney is known for saying that at the end of the day, it is just a football game. He is a football coach and a life coach.
I could go on and on about this team and the likes of the fiery Ben Boulware, the spunky Christian Wilkins and the many other players and coaches. But the bottom line is that there was more to this win than meets the eye. I wanted this victory so badly for Dabo Swinney and the Tigers. They deserved it. They overcame, just as Dabo and Deshaun have done for much of their lives. And at the end of the day, maybe it was just a game. But all I know is, at the end of the day, I wish I could have called my Nana. Because this win was something special, just like her, and she would have loved every minute of it.