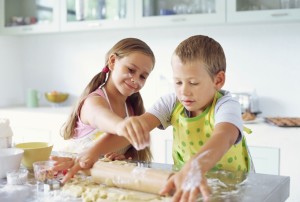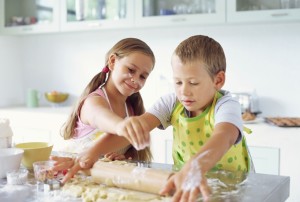 Since beginning his culinary career in grade school, when he sold pretzels from his "Awesome Pretzel" cart, Guy Fieri has gained widespread popularity as a restaurant owner, Food Network personality, and author.  He has said that "cooking with kids is not just about ingredients, recipes, and cooking. It's about harnessing imagination, empowerment, and creativity."  Indeed, preparing food with children can be an adventure, but it also provides many opportunities for authentic learning experiences that support their learning of reading, writing, math, science, and history.
Reading
When most people think of reading in the kitchen, they think of cookbooks.  Indeed, cookbooks are valuable tools for teaching children at every age how to read, count, follow directions and discover the science of cooking.  Children learn sequencing steps whether you are reading recipes to them, or if they read and follow the recipe steps themselves. Any cookbook you own can be useful in teaching reading skills, but the best cookbooks for children to learn from are those that have simple recipes and use common everyday vocabulary.
Some cookbooks even support the books your children read at home and at school.  Many popular children's books have companion cookbooks that extend the fictional literary experience. A few to try are:
The Unofficial Harry Potter Cookbook: From Cauldron Cakes to Knickerbocker Glory: More than 150 Magical Recipes by Dinah Bucholz
The Anne of Green Gables Cookbook by Kate McDonald
The Little House Cookbook: Frontier Foods from Laura Wilder's Classic Stories by Barbara Walker
Math
Math and cooking go together like peanut butter and jelly! While whipping up pancakes and cupcakes with your children, discuss the processes you use to help them learn mathematical vocabulary. Use phrases like 'more than' and 'less than' when measuring ingredients.  Provide opportunities to count, add, and subtract. Discuss the various shapes of cookie cutters and baking pans.  Older children can practice working with fractions by doubling or halving recipes.
Looking for some specific direction on how to practice math while cooking with your children?  The Math Chef: Over 60 Math Activities and Recipes for Kids by Joan D'Amico is a book that uses cooking to help children learn about measurement, multiplication, division, fractions, percent, geometry, and other math concepts.   It's a delicious way to support math concepts that your children will use for a lifetime!
Science
A kitchen is the perfect place to help your child understand how the natural world works. Cooking involves the scientific concept of changing materials: chocolate melts when heated, liquid cake mix becomes a solid through baking, juice can become ice pops when it is frozen. If you're interested in bringing scientific learning to your kitchen, the book The Science Chef: 100 Fun Food Experiments and Recipes for Kids by Joan D'Amico can help.  It provides wonderful explanations about the science behind cooking. Each chapter centers on a different scientific concept.  Facts are introduced, a brief experiment is illustrated, and a recipe is included that demonstrates the concept in cooking.  The best part of learning the science of cooking is that children get to eat the results when they're finished!
Cooking with your children also provides an excellent opportunity to discuss where foods come and how they grow. Talk about which foods are produced locally and which ones travel long distances to reach Southwest Virginia.  Discuss the importance of eating healthy foods and how our bodies use the nutrients in foods to make energy.
History
Can geography and social studies really be linked to cooking? Of course!  From where did the meals you enjoy most originate, and for how long have the recipes been around?  The book, Cooking Up U.S. History, by Suzanne Barchers, is a culinary history lesson.  She provides information and recipes centered on Native American foods, the Colonial Period, various U.S. Wars, and six regions of our country.
Passport on a Plate, by Diane Simone Vezzon, is a cookbook that focuses on foods from twelve countries and regions around the world.  The authors add interesting facts about the countries from which the recipes come. Preparation of the various dishes provides as much of a lesson in worldwide cultures as it does in cooking the food itself.
Writing
Support your children's writing skills by encouraging them to write a cookbook of their own that includes their favorite recipes.  They'll gain valuable skills in procedural writing as they write ingredient lists, explicit instructions about how a food is prepared, and illustrate the finished products.  This is a project that is destined to become a keepsake that you will treasure forever.
Cooking is an excellent way for children to learn responsibility and valuable skills. It also creates an opportunity for spending quality time together as a family and creating wonderful memories.  Any cookbook or recipe can provide direction for a successful culinary adventure, as long as the children are the main participants and the time spent together is cherished.
Bon appétit!