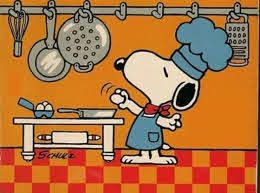 Image courtesy of WIldBrain Ltd. and Sony Worldwide
Supplies needed to make one hat:
2 pieces of white computer paper
5 feet of white parchment paper
1 rubber band (elastic)
1 sheet of black felt
Stapler
Scotch Tape
Tape two pieces of computer paper together at shorter end. Fold the paper in half lengthwise and then in half again. This will be the band of the hat.
Measure the band around the child's head and cut off any excess paper.
Fold the parchment paper back and forth as if you are making a fan (1" strips).
Open up the fan and tape inside the folded band of the hat. Staple into place starting in middle and on ends and then filling in between the staples.
Wrap band in a circle but do not secure. Gather up fanned parchment paper and wrap the rubber band around the edge to hold it together.
Now flip the band inside out so the rubber band is hidden inside the hat.
Secure the band to fit the child's head
Fluff out the hat so it is puffy on the sides.
Trace and cut out Snoopy ears on black felt
Hot glue the ears to the inside of the band