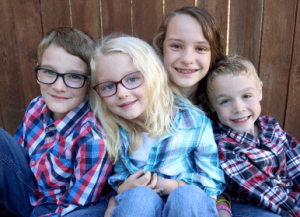 Nathan's parents do everything they can to battle the brain and spinal cancer he had been diagnosed with over seven years ago. While Dawn and Bobby Norman deal with the travel expenses and demands on their time, taking care of Nathan and their three other children, they are still always giving selflessly to the community.
That's why The Norman family were the big winners of The 2016 'No Roof Left Behind Program' sponsored by Lynchburg Roofing, Roanoke and GAF. After being nominated by Nathan's grandma, and chosen as one of four finalists for the program, thousands of community votes were cast to honor the family with a new roof. On May 20th of last year the family received a brand new roof at no cost.
This is one of the stories shared by Lynchburg Roofing, Roanoke, a participant in the 'No Roof Left Behind' initiative to provide a new shingle roof for a deserving family in the Roanoke and Lynchburg regions.
Now Lynchburg Roofing's program is in its fourth consecutive year. Nominations are being accepted now through March 15th. At the end of the nomination period, four finalists will be chosen on for the community to vote on. The winning family will get a brand new roof from Lynchburg Roofing!
"Whether it's the result of illness, disability or financial hardship, some may not be able to afford a new roof. That's where Lynchburg Roofing comes in," said Lynchburg Roofing owner, Chris Good. "Through the No Roof Left Behind program, members of the community can nominate someone deserving to receive a free roof. The Norman family was the perfect example of the kind of family we try to help. They gave so selflessly to their community, we wanted to give something back."
Nominations are being Accepted Through March 15th
You can nominate anyone in the Lynchburg and Roanoke areas now through March 15th, 2017. Lynchburg Roofing and their team will select finalists from the nominations. Then the community will vote on the winner. Voting will end March 31st, and a winner revealed on April 5th. Lynchburg Roofing will then work with them to schedule the installation of their new roof.
If you have someone in mind that you'd like to nominate, there are some helpful guidelines provided by Lynchburg Roofing: "There are a couple factors that help the nominees get to the finals. First, is the amount of detail provided about the family: who are they, how do they contribute to their community, and what factors contribute to their need for a new roof? Second, good photos can help voters to get to know you and your situation. Send us photos of your roof, any interior damage, and if you like, send us photos of your family."