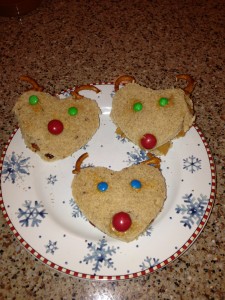 Reindeer Sandwiches
 Time: 15 minutes
Age: Any & All!
Ingredients: Bread, Peanut Butter, Jelly, M&Ms, Pretzels
Equipment: butter knife, cookie cutter
Make sure to lay out all of your supplies for easy assembly!    Make extra as each completed sandwich is small
Take your cookie cutter and place in the middle of a slice of bread.  Press firmly.  Repeat this step on a second slice.
On one of your heart slices, spread peanut butter. On the second slice, spread jam or jelly.
Carefully break two pretzels in half to create the antlers for your reindeer.
Place a broken pretzel piece on each side of your peanut butter coated heart.  Place the jelly coated heart on top.
Dab your sandwich with peanut butter in the eye and nose locations.  Place M&Ms on these spots and enjoy your reindeer!