Save This Buy That: Springtime Strawberry Sweets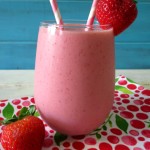 Strawberry-Orange Smoothie
$1.85/Serving  Serves 3
3 Cups Vanilla Yogurt
10 oz frozen Strawberries
2 tablespoons orange juice
1 tablespoon honey
1. Blend all ingredients until smooth. Add more honey to taste. Serve immediately.
Chocolate Covered Strawberries
$1.50/Serving, Serves 4
12 fresh strawberries
16 oz candy melts or chocolate
12 toothpicks
1. Melt chocolates in double boiler or in 30 second intervals in microwave safe bowl.
2. Pat strawberries dry with paper towel. Using toothpick as a handle, dip into chocolate.
3. Place on freezer paper or baking sheet and allow to set. You can refrigerate for up to 3 days.
Strawberry Cream Pie
$0.75/Serving Serves 8
1 large box of instant strawberry pudding
1 cup of Milk
1 16 oz tub of Cool Whip
1 Graham cracker pie crust
2-3 fresh strawberries.
1. Mix pudding mix with 1 cup of milk. Allow to set for 5 minutes.
2. Slowly stir in cool whip. Pour into graham cracker pie crust and let set for 4 hours.
3. Decorate with sliced strawberries before serving.
Strawberry Lemonade
$0.33/Serving Serves 16
Zest of 1 lemon, in wide strips
2 cups sugar
2 cups chopped hulled strawberries
2 cups fresh lemon juice (from about 10 large lemons)
1/4 teaspoon salt
1.Bring the lemon zest, 1 1/2 cups sugar and 1 1/2 cups water to a boil in a medium saucepan, stirring, until the sugar dissolves; let cool to room temperature.
2. Toss the strawberries and the remaining 1/2 cup sugar in a bowl and let sit at room temperature until the sugar dissolves, about 45 minutes. Strain the strawberry mixture; reserve the strawberry syrup and berries separately.
3.Combine the lemon juice, lemon syrup, salt and 2 cups cold water in a pitcher. For each drink, put about 1 tablespoon of the strawberry syrup in a tall glass. Fill with ice, then top with the lemonade and some of the reserved strawberries.
Strawberry Fruit Kabobs
$1.50/Serving Serves 4
2-3 cups of your favorite fruits, diced
1. Place bite-sized pieces of fruit on to long wooden skewers.