Save This Buy That Recipes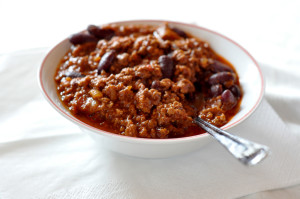 Growing Up in the Valley's Five Star Red Hot Chili
Ingredients:
2 tablespoons of olive oil
1 yellow onion
2 cloves of garlic
1 lb of ground beef
1 (15 oz.) can of kidney beans
1 (15 oz.) can of black beans
1 (15 oz.) can of diced tomatoes
1 (6 oz.) can of tomato paste
1 cup ater
1 packet of Chili Seasoning
1. Dice the onion and mince the garlic. Add both to a large pot with the olive oil and cook over medium heat until they are soft and transparent. Add the ground beef and continue to sauté until the beef is fully browned.
2. Drain the beans and add them to the pot along with the diced tomatoes, tomato paste, 1 cup water, and all of the ingredients for the chili seasoning. Stir until well combined. Place a lid on the pot and allow it to simmer over a low flame for at least 15 minutes, stirring occasionally (the flavor gets better the longer it simmers).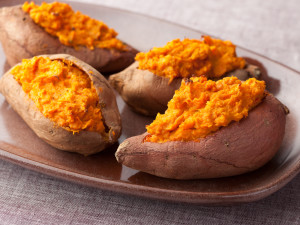 Twice Baked Sweet Potato
Ingredients
6 sweet potatoes, even in size and scrubbed
4 tablespoons brown sugar
4 tablespoons butter, room temperature
4 ounces cream cheese, room temperature
1/2 teaspoon ground cinnamon
1/4 teaspoon ground nutmeg
1/4 teaspoon ground ginger
Salt and freshly ground black pepper
1.Preheat oven to 375 degrees F.

2. Place sweet potatoes on sheet tray and bake for 1 hour or until soft. Remove from oven and let stand until cool enough to handle.

3. Split potatoes and remove the flesh to a medium sized bowl, reserving skins. In another bowl, add brown sugar, butter and cream cheese and the all of the spices and mash with a fork or rubber spatula.

4. Add the butter and cream cheese mixture to the sweet potato flesh and fold in completely. Add the filling back to the potato skins and place on a half sheet tray. Bake for 15 minutes or until golden brown.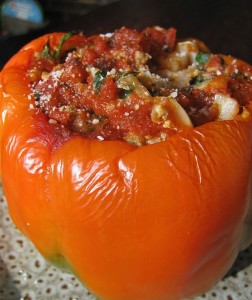 Stuffed Peppers
4 large bell peppers (any color)
1 lb lean ground beef
2 tablespoons chopped onion
1 cup cooked rice
1 teaspoon salt
1 clove garlic, finely chopped
1 can (15 oz)  tomato sauce
3/4 cup shredded mozzarella cheese (3 oz)
1. Cut thin slice from stem end of each bell pepper to remove top of pepper. Remove seeds and membranes; rinse peppers. If necessary, cut thin slice from bottom of each pepper so they stand up straight. In 4-quart Dutch oven, add enough water to cover peppers. Heat to boiling; add peppers. Cook about 2 minutes; drain.
2. In 10-inch skillet, cook beef and onion over medium heat 8 to 10 minutes, stirring occasionally, until beef is brown; drain. Stir in rice, salt, garlic and 1 cup of the tomato sauce; cook until hot.
3. Heat oven to 350°F.
4. Stuff peppers with beef mixture. Stand peppers upright in ungreased 8-inch square glass baking dish. Pour remaining tomato sauce over peppers.
5. Cover tightly with foil. Bake 10 minutes. Uncover and bake about 15 minutes longer or until peppers are tender. Sprinkle with cheese.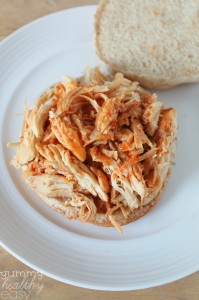 Pulled Chicken Sandwiches
Roasted Chicken (leftovers work!)
Family's favorite BBQ sauce
Sandwich buns
1. Shred warm cooked chicken with forks.
2. Serve warm on sandwich buns,  topped with favorite BBQ sauce.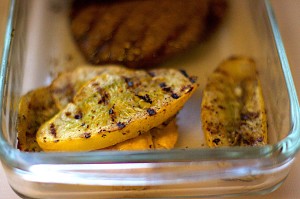 Roasted Summer Squash
Ingredients
Summer Squash
Butter or Olive Oil
Salt & Pepper
1. Preheat oven to 350.
2. Cut squash lengthwise and season with butter, salt and pepper. (If you're adventurous try adding taco or chili spices!
3.  Place in casserole dish and bake for 15 minutes.
Optional: Place squash on grill or griddle instead of using an oven!
Click here for our past recipes.