Save This–Buy That: Summer Recipes
Growing Up in the Valley magazine has teamed up with Member One Credit Union to help YOU save money. We've collected 5 great recipes that feed at least 4 people for under $10!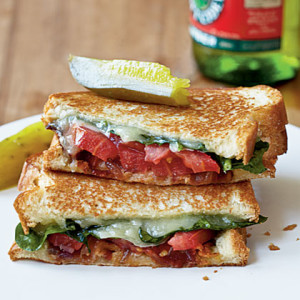 Our All Grown Up Grilled Cheese
($2.14 per Serving)
8 slices of bread

4 oz sharp cheddar cheese

2 cups spinach leaves

1 large tomato

6 slices center cut bacon

1 large red onion

1 garlic clove

cooking spray
1. Heat a large nonstick skillet over medium-low heat. Coat the pan with cooking spray. Add 1 cup sliced onion and garlic; cook for 10 minutes or until tender and golden brown, stirring occasionally.
2. Sprinkle 2 tablespoons grated cheese over each of 4 bread slices. Top each slice with 1/2 cup spinach, 2 tomato slices, 2 tablespoons onion mixture, and 1 1/2 bacon slices. Sprinkle each with remaining 2 tablespoons grated cheese; top with the remaining 4 bread slices.
3. Place sandwiches in heated skillet coated with cooking spray again, and cook for 3 minutes on each side or until golden brown and cheese melts.
---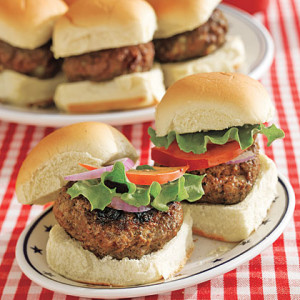 Mini Sliders
($0.78 per Serving)
4 slices bacon 

1 onion, finely chopped

2 garlic cloves, minced

3 pounds lean ground beef 

2 tablespoons Worcestershire sauce

Salt and pepper

24 small dinner rolls 
1.In a skillet, cook bacon until crisp. Remove bacon and drain on paper towels. Discard all but 2 Tbsp. bacon fat. Cook onion in bacon fat until translucent, about 3 minutes, then add garlic and cook 30 seconds longer. Remove mixture from pan and let cool. Crumble bacon when cool enough to handle.
2.In a large bowl combine beef, bacon, onion mixture, Worcestershire sauce and salt and pepper, and mix well. Form into 24 small patties and chill.
3.Preheat grill to medium; oil when hot. Cook burgers for about 7 minutes for medium rare, turning once halfway through. Serve burgers on rolls.
---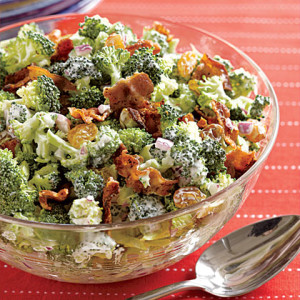 Crunchy Broccoli Slaw
($0.90 per Serving)
8 slices bacon 

1 large head broccoli

1 small red onion, minced (1/2 cup) 

1/3 cup golden raisins

1/3 cup mayonnaise 

3 tablespoons white balsamic vinegar

2 tablespoons honey

Salt and pepper
1.Cook bacon in a large skillet or on a griddle over medium heat until browned and crisp. Drain on paper towels. Crumble into 1/2-inch pieces; set aside.
2.Cut florets from broccoli stems and chop into small pieces. Transfer to a salad bowl and toss with minced onion and raisins.
3.In a small bowl, whisk together mayonnaise and vinegar until smooth. Add honey, salt and pepper, whisking to combine. Pour dressing over broccoli mixture and toss to coat evenly. Crumble bacon pieces over broccoli slaw and serve immediately.
---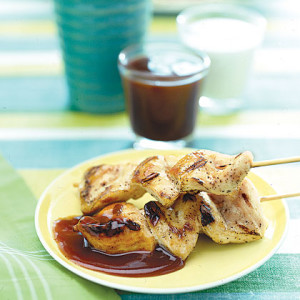 Grilled Chicken Skewers
($0.92 per Serving)
2 pounds boneless, skinless chicken breasts, cut into 2-inch chunks 

1/4 cup olive oil

Salt and pepper
1. Soak a package of bamboo skewers in warm water for 20 to 30 minutes; drain. Preheat grill to medium-high.
2. Thread 3 pieces of chicken on each skewer. Brush chicken with olive oil and sprinkle with salt and pepper. Douse a paper towel with vegetable oil and, holding it with tongs, carefully oil grill grate (or, away from heat, mist grill grate generously with nonstick cooking spray).
3. Arrange chicken skewers on grill so that they are not touching. Cover grill. Grill chicken until cooked through, 6 to 8 minutes, turning once. Serve hot or at room temperature. Or let them cool, cover with plastic wrap and refrigerate to serve later.
---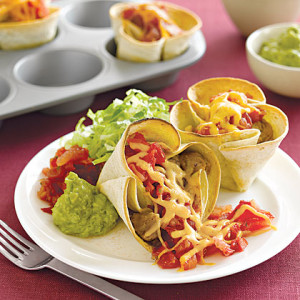 Bean Tostadas
($0.75 per Serving)
6 (6-inch) flour or corn tortillas

3/4 cup fat-free refried beans

3/4 cup jarred red salsa 

1 cup shredded Cheddar (about 2 1/2 oz.) 

1 tablespoon finely chopped fresh cilantro

1 cup shredded Romaine lettuce 

2 tablespoons sour cream 
1. Preheat oven to 400°F. Mist every other cup of a 12-cup muffin tin with nonstick cooking spray. Press a tortilla into each sprayed cup, flattening out edges, and bake until golden, about 8 minutes.
2. Divide beans among tostadas, top with salsa and sprinkle with cheese. Return to oven and bake until warmed through, 7 to 10 minutes.
3. Place each tostada on a plate and sprinkle with cilantro. Top with some lettuce and a small dollop of sour cream. Serve with extra salsa, if desired.
Be sure to check out Member One's Blog for more save this buy that money saving tips!
(photos from www.myrecipes.com)
Send in your recipes to Tracy@testing.covdesigns.com and you might be published in our next issue!
– T h i s   i s   a n   a d v e r t i s e m e n t . –