2nd Annual Growing Up in the Valley Star Awards

We asked and you answered! The 2015 Growing Up in the Valley Star Award Winners have been decided by YOU!
---
10 locations throughout Roanoke, Lynchburg & New River Valley
The Berglund Automotive Group offers new & used cars throughout the entire Southwest Virginia area. Berglund Automotive is very active in supporting local charity and community efforts, as they sponsor several local charitable races and community events.
Tuck Chiropractic Clinic
11 locations throughout Roanoke & New River Valley
Perhaps Tuck Chiropractic's win is best summed up with this patient testimonial: "Not only are you treated with top notch care. There are no strangers there at Tuck Clinic. You are all treated like family from day one with a very friendly staff. That in itself makes it all worth while." – Bill Ferrell
Drs. Anderson & Sheppard
3650 Colonial Ave SW, Roanoke, VA
www.pediatricdentistryroanoke.com
Drs. Anderson & Sheppard have been practicing in Roanoke for over 35 years. Several of their staff members have been working with them for 20 to 30 years, and over half of the staff members have been with their practice for over 10 years. They truly understand children's needs with dentistry and are a staple in the community.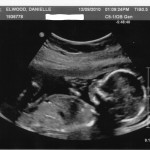 Carilion OB/GYN
Throughout Roanoke & New River Valleys
www.carilionclinic.org
By choosing Carilion OB/GYN, you have all the resources you need without having to travel far from home. When it comes to quality healthcare at any stage of life, women can rely on the experience and expertise of Carilion Clinic's OB/GYN teams.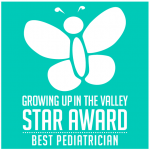 Physicians to Children
21 Highland Avenue, Roanoke VA
www.physicianstochildren.com
For more than half a century, Physicians to Children has been dedicated to looking after the health of infants, children, adolescents and their families throughout the Roanoke Valley. They proudly carry on the longstanding tradition of Physicians to Children in providing the most advanced, comprehensive healthcare available.
Dr. Paul Kaiser
5180 Peters Creek Rd NW, Roanoke, VA
www.kaiserorthodontics.com
Dr. Paul Kaiser's office uses the most current technology and techniques to make treatment as fast and comfortable as possible. Besides traditional metal braces, they offer different dental solutions for all ages. Their team members has years of experience in orthodontic care and participates in continuing education courses to keep their skills up to date.
The River & Rail
2201 Crystal Spring, Roanoke VA
www.riverandrailrestaurant.com
Chef Aaron Deal is dedicated to offering delicious, local, and seasonal food to the area. He and his team produce updated Southern/Appalachian and French classic dishes. Whether it is a bite with the family on a weeknight, or a family celebration, The River and Rail will serve you the best the region has to offer.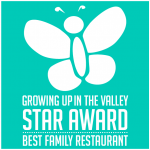 Macado's
17 locations throughout Southwest Virginia, West Virginia, North Carolina, & Tennessee
www.macados.net
The first Macado's restaurant was opened in 1978 by Richard Macher in downtown Roanoke, Virginia. It soon became popular for its eclectic ambiance of cartoon, antique, and local nostalgic decor, as well as its wide array of hearty yet modestly-priced sandwiches, subs, and entrees. Why did a popular college spot win for best family restaurant? Kids eat for $1 every tuesday night!
Bubblecake
Crystal Spring & Electric Road in Roanoke, Pepper's Ferry in Christiansburg
Bubblecake specializes in whimsically designed, over-the-top cupcakes and baked goods such as pie from their sister store, Piety.
The Grandin Theatre
1310 Grandin Road, Roanoke VA
The historic Grandin Theatre is operated by the Grandin Theatre Foundation; a nonprofit organization dedicated to keeping the Roanoke landmark open & serving the community by providing arts and cultural offerings for residents, visitors and guests.
The Science Museum of Western Virginia
Center in the Square, Roanoke VA
www.smwv.org
The Science Museum was created in 1970 as an informal educational facility to assist students in learning about science. The museum serves the people of the area with an outstanding institution that fosters life-long learning. They have many exhibits including: Healthy Earth Gallery, Living River and Touch Tank, Open Lab, Children's Curiosity Corner, and the beautiful Butterfly Garden.
HoneyTree Early Learning Center
10 locations through Roanoke Valley
HoneyTree Early Learning Centers is locally-owned and operated and has been serving generations of families since 1979. Over the years, HoneyTree has grown to operate 12 Centers in the Roanoke Valley. HoneyTree offers childcare from 6 weeks through 12 years of age. Their centers are open from 6:15 am to 6:30 pm making it convenient for the working parent.
Faith Christian School
In 1996 a group of families in the Roanoke area sought to develop a new school: a school of academic excellence committed to a classical curriculum, which also incorporated a Christian, biblical worldview, within the context of a non-denominational and independent setting. Today FCS has nearly 300 students enrolled and 100% of their high school graduates go on to attend a 4 year college or university.
Crystal Spring Elementary
2620 Carolina Ave. SW, Roanoke, VA
Crystal Spring School will emphasize the development of creative thinking, flexible and appropriate educational opportunities relevant to students' lives, and the fostering of intellectual curiosity and zest for learning. We will develop the student's ability to communicate and function as a part of the world community through technology, writing, public speaking, creative expressions, and visual arts.
Rose Dudley
When it comes to finding the perfect realtor, you should listen to their past clients: "Ms. Dudley was exceptionally helpful with details of our home sale while we lived out of state. It was comforting to know that she was on top of every part of the process and kept us informed of updates during the term of the lease and sale of our property. I would absolutely recommend her services to anyone in need of a trustworthy real estate agent in the Roanoke Valley."
Salon Del Sol
2601 Franklin Road, Roanoke, VA
For nearly twenty years, Salon del Sol has been providing Roanokers with modern hair styling, customized color and unique spa treatments that blend contemporary and ancient techniques. Salon del Sol retails the entire Aveda line of hair, styling, skin care, body, men, makeup, pure-fume™ and gifts.
Greenbrier Resort & Spa
300 W. Main Street, White Sulphur Springs, WV
Since 1778, people have traveled to The Greenbrier to "take the waters" and bathe in the white sulphur spring water.  Today, The Greenbrier's world-renowned mineral spa offers a variety of services designed to bring you relaxation and comfort. Luxuriate in a whirlpool bath or soak up the healing properties of the native sulphur waters. Invigorate every pore in a steam room or sauna. Or, simply indulge in all the spa treatments you so richly deserve.
Green Ridge Recreational Center
7415 Wood Haven Rd. Roanoke, VA
www.greenridgerecreationcenter.com
Green Ridge Recreation Center is Roanoke Valley's premier public recreational facility. Comprising of 76,000 square feet, our center offers such amenities as a large wellness area for exercising and training, indoor walking track with beautiful mountain views, an indoor pool with water features, double sized, wooden floored gymnasium with six backboards, party and multipurpose rooms, child care and activity rooms, spacious locker rooms with private showers, and a family changing area. It's healthy fun for everyone!