Surprisingly simple potty training tips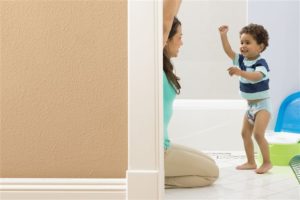 (BPT) – Your toddler sits in unusually quiet concentration as you smile and give two thumbs up, the universal sign of encouragement between parent and child. After what seems like an eternity, when you're about to give up hope, you suddenly hear the long-awaited sound of victory – that little tinkle that signifies potty training success!
Before having kids, most parents would never imagine they'd be so excited for another person to go to the bathroom. While potty training is an eagerly anticipated milestone for toddlers and parents alike, it is important to note there will be victories and setbacks along the way. This is why both parents and toddlers need to stay encouraged throughout the journey.
Dr. Laura Jana – pediatric, parenting and early childhood expert – encourages parents to always keep in mind that potty training is a learning experience unique to each child. Even when things don't go as planned, you can be your child's best coach.
"Parents want potty training to be a positive experience for their toddlers, but leaks, accidents and less-than-successful attempts to switch from training pants to diapers can often feel like setbacks," says Jana. "By shifting our thinking and focusing efforts on helping them overcome these common obstacles, we can best help our little ones ultimately achieve and celebrate potty training success."
As many parents begin the potty training journey in anticipation of summer fun and the start of preschool in the next school year, Jana shares her top tips for keeping the experience as simple and positive as possible.
Tip 1: Promote potty "learning." 
Learning how to use the potty takes plenty of time and patience. It's more than just training; it is a learning opportunity for toddlers and parents alike that should be enjoyable. After all, mastering this concept of "potty learning" with your little one is a big accomplishment and milestone.
Tip 2: Be prepared.
Stock up on practical supplies that foster your child's interest and independence – from a potty seat or toilet ring and step stool to training pants that all help potty-training toddlers proudly set aside their diapers and make the diaper-to-underwear transition. The fact that Pampers Easy Ups offer an toddlers an underwear-like look and feel while containing accidental leaks and messes at home, on-the-go or overnight, makes them an effective option for facilitating the potty training process. Learn more at www.pampers.com.
Tip 3: Watch for signs of readiness.
Keep an eye out for subtle (and some not-so-subtle) signs that children are ready for potty training such as:
* Verbal expressions about having to go or a desire to use the "big potty."
* Able to toddle to the bathroom and pull down their own pants independently.
* Awareness of the sensation of peeing or pooping, characteristically noticeable when young children suddenly stop what they're doing as they feel themselves start to go.
* Bothered by poopy and/or wet diapers.
Tip 4: Start making connections. 
You can do a lot to help your child prepare for using the potty long before your toddler actually begins. Making up a fun song or reading engaging children's books about potty training, such as "You and Me Against the Pee!," can help make the idea of potty learning fun. Additionally, you can help make the potty routine familiar by letting your toddler accompany you in to the bathroom when you need to go.
Tip 5: Proudly promote team spirit.
It is important to keep in mind that "teamwork makes the dream work," especially in the case of potty training. You get to be your child's biggest fan, teammate, and potty training coach. In all these roles, remember to stay calm in the face of potty accidents and encourage your little one to rise above and try again.
Tip 6: Celebrate every win.
As with any experience, young children can learn a lot from both their potty successes and setbacks. While potty accidents are an inevitable aspect of potty learning, they shouldn't dominate your day-to-day discussions. Instead, simply help your child learn to cope with and clean up any messes, and focus your attention on celebrating your child's efforts and successes with plenty of hugs and words of encouragement.
No one said potty training would be easy, but it can be fun! Every day is a step toward victory.