Teacher of the Month March 2017: Kimberly Slater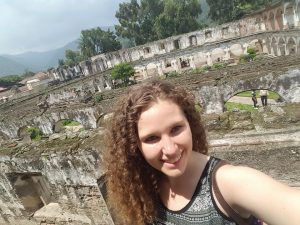 How long have you been teaching? 2 years
What made you decide to become a teacher?
Ever since I was in elementary school I have loved learning and wanted to be a teacher. Playing "school" was a typical activity growing up with my friends. I have always enjoyed working with kids and delight in helping them learn.
What Advice would you give to a new teacher?
Make sure you establish your expectations from day one and enforce them consistently. Management is one of the most difficult aspects of teaching, but if your kids know what you expect of them, the classroom environment will be much more positive.
What advice would you give to parents with school aged children?
Communicate with your child about what they learn in school each day. Go over returned assignments and tests with them—reading all teacher comments—so they can learn from their mistakes. Read with your child and model the importance of reading by doing it yourself when you have time. If you have questions or concerns about your child's progress, communicate with their teacher. We want your child to succeed!
What advice would you give to a student entering a new grade?
It's normal to feel anxious about starting a new school year. When you go into your new classroom for the first time, know your teacher is there to help and cares about you. Be open to making new friends and be kind to others. Have a positive attitude and know you are going to make mistakes and that's okay! Mistakes are how we learn! Ask your teacher and peers for help, try your best, and you'll be fine.
What is your favorite part about teaching?
Seeing a student who has been struggling succeed.
What would your students be surprised to know about you?
I've climbed a volcano.
What do you like to do when not teaching?
Go hiking, play with my dog, and spend time with friends and family.
What is on your wish list?
Nabi Tablets, Alternative seating (bean bag chairs, exercise balls, etc.), Math and Reading Games, SMART Pals
What are you most proud of?
I am proud of my students when the really work hard on something and succeed.
What is your favorite quote?
"Tell me and I forget. Teach me and I remember. Involve me and I learn."
Where are you from originally?
Spokane, WA. My family moved to Virginia my junior year of high school to be closer to our relatives.
What is the biggest challenge in your life?
The biggest challenge in my life would have to be climbing Volcan Acatenango in Guatemala this past summer. It taught me a lot that I can apply to teaching. Climbing up 13,000 feet of rough terrain is a lot like learning a new subject. It may be easy for some students and seem to come naturally (like climbing did for the Europeans I was with). Others may take a long time before they completely understand (or in my case, take longer than the average person to climb up). Students may need breaks when they feel frustrated or tired (in my case a break took place every 5 minutes). Whether it be in climbing a volcano or learning a new topic, if you believe in yourself and accept that you will get there—wherever there is—at your own pace, you will succeed. Not everyone will learn in the same way or at the same pace. Having faith in the end result is what is important. Even though I wanted to give up a thousand times as I was climbing, I wouldn't let myself. This is what I hope to instill in my students—the determination to keep trying even when things get tough. All the while, I will remember that my kids learn at different rates and that's okay.
What community or charitable work are you involved in?
Unfortunately, I am not currently involved in community service—I spend all my hours teaching my 3rd graders or my students in after-school. However, this past summer I was privileged to travel to Guatemala to volunteer with Ninos de Guatemala—a non-profit organization that provides high quality education to low-income families. I visited a kindergarten classroom periodically, where I was able to perform small tasks for the teacher and work with the kids a bit. Throughout college, I co-led a program to the homeless shelter once a week to play with the kids.