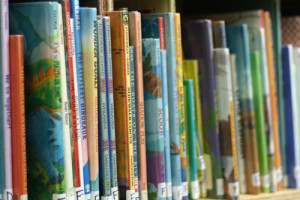 Goodnight Moon by Margaret Wise Brown
     Acclaimed for its soft poetry, exalting it as the prime example of a bedtime story
     Other books by Brown: Runaway Bunny, The Sailor Dog, and Little Fur Family
Where the Wild Things Are by Maurice Sendak
     Over 50 years since its release, it continues to be a popular read with a movie adaptation
     Other books by Sendak: Chicken Soup with Rice and Outside Over There
Brown Bear, Brown Bear, What Do You See? by Bill Martin, Jr.
     The book helps toddlers to associate colors and meanings to certain objects
     Other books by Martin: Polar Bear, Polar Bear What do You See? and Chicka Chicka Boom Boom
The Giving Tree by Shel Silverstein
     A beautiful parable of the gift of giving and the capacity of one's love
     Other books by Silverstein: Where the Sidewalk Ends and Falling Up
If You Give a Pig a Pancake by Laura Numeroff
     Humorously explores the old saying "if you give an inch, they'll take a mile"
     Other books by Numeroff: If You Give a Mouse a Cookie and If You Give a Moose a Muffin
Green Eggs and Ham by Dr. Seuss
     A Beginner Book, it encourages children to read on their own
     Other books by Dr. Seuss: Cat in the Hat, The Grinch Stole Christmas!, and The Lorax
The Very Hungry Caterpillar by Eric Carle
     Eric Carle's innovative and bright illustrations has delighted hearts for almost 50 years
     Other books by Carle: A House for Hermit Crab and The Very Busy Spider
Curious George by H.A. and Margret Rey
     A curious monkey named George continues to bring laughter, 75 years after its release
     Other books by the Rey's: Pretzel, The Stars, and Find the Constellations
No, David! by David Shannon
     The book showcases a parent's unconditional love for their child- even when they misbehave
     Other books by Shannon: A Bad Case of Stripes, Duck on a Bike, and The Rain Came Down!
Amelia Bedelia series by Peggy Parish
     Housekeeper, Amelia Bedelia, hilariously takes her instructions literally
     Other books by Parish: No More Monsters for Me! and Good Hunting, Blue Sky