The cold weather has finally kicked in! As the kids anticipate the snow, parents worry about keeping warm to try and battle the winter illnesses. To keep warm and strengthen the immune system, this time of the year calls for hearty soups, like the following Two Bean Soup with Kale.
Kale is a part of the cruciferous vegetable family. Famous relatives include broccoli, cabbage, cauliflower, collard greens, and brussels sprouts. These vegetables are known for their high concentration of isothiocyanates (broken down glucosinolates), which has been linked to lowering the risk of a handful of cancer's.
Specifically, kale is good for working close with the body's detoxification system and lowering cholesterol. Also, kale is rich with antioxidants and vitamins A, K, and C. Kale also has minerals that can be hard to find in vegetables: calcium, magnesium, and potassium, among others.
As the kale detoxifies the body and replenishes antioxidants and vitamins, the beans provide fiber, proteins, and iron. All you have to do is make the soup, then just sit back and relax as the nutrients do the rest of the work!
INGREDIENTS (makes 6 servings) 

3 tablespoons olive oil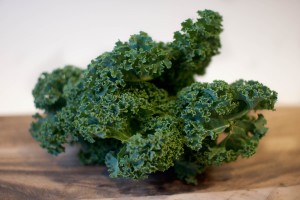 1 cup chopped onion
1/2 cup chopped carrot
1/2 cup chopped celery

1/2 teaspoon salt, divided
2 garlic cloves, minced
4 cups organic vegetable broth, divided
7 cups stemmed, chopped kale (about 1 bunch)
2 (15-ounce) cans no-salt-added cannellini beans, rinsed, drained, and divided
1 (15-ounce) can no-salt-added black beans, rinsed and drained
1/2 teaspoon freshly ground black pepper
1 tablespoon red wine vinegar
1 teaspoon chopped fresh rosemary
PREPARATION 
Heat a large pan over medium-high heat. Add olive oil to pan; swirl to coat. Add onion, carrot, and celery, and sauté for 6 minutes, or until tender. Stir in 1/4 teaspoon salt and garlic; cook for 1 minute. Stir in 3 cups vegetable broth and kale. Bring to a boil; cover, reduce heat, and simmer for 3 minutes or until kale is crisp-tender.

Place 1 can of cannellini beans and remaining 1 cup vegetable broth in a blender or food processor; process until smooth. Add pureed bean mixture, remaining cannellini beans, black beans, and pepper to soup. Bring to a boil; reduce heat, and simmer for 5 minutes. Stir in remaining 1/4 teaspoon salt, vinegar, and rosemary.