Visiting Mountain Lake Lodge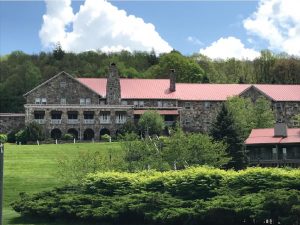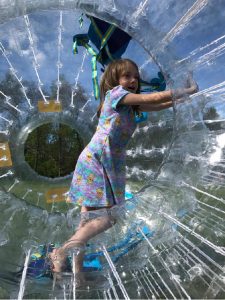 There's no TV.
There's no cellphone signal.
There's no lake.
But that's no problem at the Mountain Lake Lodge.
I'm not going to lie to you fair readers, when I read on the Mountain Lake Lodge website that the rooms within their main building did not have TVs, I was a little worried. How was I supposed to pass the time all weekend? Surely they couldn't entertain my family for long enough that we wouldn't need to zone out watching our favorite primetime shows. (Masterchef Junior was having its two hour finale after all!) But upon arrival, the Lodge became the perfect, disconnected, getaway that my family didn't know we needed.
The Lodge is a peaceful getaway for a family who wants to disconnect from their electronics and reconnect with each other. The entire resort is designed to pull people away from their phones, computers and ultra-connected world. The mountain naturally blocks nearly all cell phone signals, rendering your teen's Snapchat, Pokemon Go and Twitter apps useless. The initially scary lack of TVs in the room regains your younger children's attention. And while the lodge has free wifi for its guests, it is just enough for basic email functions. Don't even think you'll be able to sneak off and stream anything on Netflix.
With our phones cut off from the outside world, my husband and I were able to have a lunch without a screen between us. We both love technology but we noticed that we hadn't just talked about nothing together in a long time. We took in the details of the gorgeous dining room in the Harvest Restaurant. We both agreed that it was rustic but not cheesy or campy. We shared each other's meals and wondered where in Virginia the chefs found bison to serve. (Not to mention locally sourced fish, chicken, vegetables and dairy products) Because the Lodge was used in the filming of the majority of the classic film, Dirty Dancing, We quizzed each other on our memories of movie, bemoaned the losses of Swayze and Orbach, and felt giddy at being in the same space once occupied by the great Kelly Bishop. (Okay, that was more me than him, but he indulged my broadway side for a moment.)
The lodge took us back to when we were first dating and would just talk about whatever came to mind and let the conversation flow aimlessly and easily. For the rest of our trip we only brought out our phones to check in on our babysitter and take silly selfies; some habits do die hard after all.
Instead of spending my time browsing through Facebook, we took small hikes through the mountainside. We played tetherball, something neither of us had done since we were children. We commandeered a golf cart and toured the 210,000 acre property. Every turn lead to another beautiful vista or breathtaking scene.
You don't feel like you're just 20 minutes outside of Blacksburg, but rather that you have been transported into an isolated forest oasis. The area is well cared for and spoken about with kind of reverence from the lodge staff. Up a short drive from the main lodge building is their Adventure Center which hosts their ropes course and zip lines, archery tag,
zorb bals races, bubble ball soccer games and more.
My daughter got to try out the famous zorb ball while my husband attempted to complete the ropes course and zip lines. (I was left out of the fun due to doctor's orders, but I made sure to get tons of photos!) My daughter was able to get the zorb ball up to fantastic speeds and zipped all over the field. Adam and Matt, our tour guides, said that they have several obstacle courses and games they can set up for families- but mine was happy just to run around like a hamster.
My husband completed the course with  our tour guide Adam. From the course he could see glimpses of the lake bed and resort. While I love my husband, he is not what I would call athletic. This course was just hard enough for him to feel the pain the next day, but not so hard that he couldn't complete the challenges.
Mountain Lake Lodge is unparalleled in their dedication and devotion to their surrounding environment. The last owner, Mary Moody, established an endowment in her will  to help keep the lodge available to families all year long and to preserve the natural beauty that she was able to enjoy as a child herself. All construction in the resort is simply done to maintain and preserve the existing structures.
Despite the age of some of the buildings, nothing feels worn out or run down. A tennis court that was ravaged by the rain and cold this winter has been turned into a beach volleyball pit. The volleyball pit will be easier to maintain in good condition and allows for less impact on the environment while still providing entertainment opportunities for the resort's guests. You can feel the love the staff have for the area. I was taken on a tour of the lakebed (and a few of the more famous Dirty Dancing filming locations) and you couldn't help but catch our tour guide, Matt's excitement for the area. He and his fellow staff, were nothing short of incredible our entire stay.
The staff shared the resort's vision of the future with us. They are modernizing aspects of the lodge while still maintaining the picturesque beauty and traditions of the area. Gravel roads are being paved for the comfort of the guests, plumbing and bathrooms are updated to give your stay a luxurious feeling. They have mastered the balance between comfort and nature, giving their guests the best of both worlds.
The lodge does take pride in its part of the Dirty Dancing movie. There are free half-hour long walking tours to see famous scenes, as well as a self-guided tour with plaques describing the location's use in the movie. However, you don't have to be a big fan to enjoy the beauty of the area that was the clear draw to the hollywood producers.
As an older millenial parent, my own style of vacation is technology infused. I use my phone's GPS to guide us to new locations. Yelp is bookmarked to help us figure out the best restaurants and points of interest.  I am often posting to social media during the events and activities we have planned. The Mountain Lake Lodge, and its design to get people put down their phones and focus on the moment at hand, was a refreshing change of pace and one I would do again. Instead of instagramming my daughter's joy in the zorb ball, I was able to soak it in without a screen in the way. I was forced to wander around nature, to stop- breathe- and take in the beautiful view without wondering which filter I would use. Meals weren't rushed affairs between activities but was an activity itself. We would savor the food, dicuss how the chefs masterfully balanced southern comfort food and haute cuisine flavors.
So if your family is looking to reset their relationships, disconnect from technology, and spend their days having fun and nights relaxing- Mountain Lake Lodge is waiting for you up in the mountains.