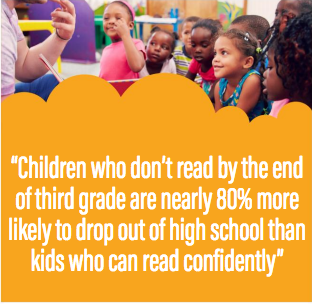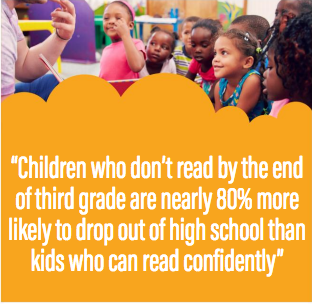 Did you know that the first five years of a child's life are the most important for her brain development? 90% of a person's brain forms before age 5. The connections children's minds make at a very young age set the foundation for their futures. Babies and young kids are constantly learning from everything they see—and everything their families do with and say to them.
The early years are especially important for language development. Starting from birth, children need to be read to and spoken with every day. Studies show that the more words a child hears (from another person, not a TV or device) at just 18 months predicts how ready to learn they'll be on the first day of kindergarten. Kindergarten readiness is a strong predictor of reading proficiency in 3rd grade. Children who don't read by the end of third grade are nearly 80% more likely to drop out of high school than kids who can read confidently. And young people who don't complete high school go on to struggle with employment, health, and incarceration.
We want all Roanoke kids to succeed in school so they can become thriving adults. The Roanoke Public Libraries are the lead of Star City Reads, the All-America City Award-winning initiative that's part of the national Campaign for Grade Level Reading. A coalition of over 24 community partners, Star City Reads works to ensure that all Roanoke children enter kindergarten ready to learn, attend school regularly, retain knowledge over the summer, and are proficient readers by the end of third grade.
Star City Reads knows that a child's first teachers are the adults raising him. It may seem like an overwhelming responsibility to ensure that your child's brain grows properly, but it's actually very manageable. Being a brain builder doesn't require spending lots of money on expensive software or toys. All you need is to spend a few minutes every day interacting with your child.
And now, there's a new program being rolled out in Roanoke that will help make brain building that much more doable. Vroom is a parent engagement program that provides simple science-based tips for brain building that families can incorporate into their daily routines. It's based on the seven essential life skills that Mind in the Making researchers have determined to be critical parts of a child's growth, and is completely free.
Star City Reads has received a grant from the Bezos Family Foundation to roll out Vroom citywide. You'll see engaging posters in waiting rooms, shops, and around town that provide quick and easy learning activities you can do right there with your child. In addition, if your child is enrolled in preschool at the Roanoke City Public Schools or at TAP Head Start, you may have received a pack of tip card kits. Or, if you've recently given birth at Carilion Roanoke Memorial Hospital, you were given a baby tip card with your copy of the Roanoke Baby Board Book.
Vroom also includes a free app for iPhone, Android, and Amazon Kindle. In your app store, search for 'Daily Vroom?' When you download the app, enter the ages of the kids in your life. The app will then text you an age-appropriate, science-based tip every day for an easy brain building activity you can do with your child as you go about your day. Vroom is about taking advantage of everyday experiences your family's already having and turning them into brain building opportunities.
We encourage you to download the app, and to keep an eye out for Vroom materials throughout the community. If you have any questions, please visit www.starcityreads.org or www.facebook.com/StarCityReads. And remember: you already have what it takes to be a brain builder!