Welcome Autumn with this WARM PUMPKIN SPICE drink recipe
It's all the rave right now … pumpkin flavored EVERYTHING! There's pumpkin muffins, pumpkin ice cream, pumpkin coffee, pumpkin cake and even pumpkin flavored OREO's!
Well, we have just the drink for all of you pumpkin-loving, pumpkin-craving foodies out there … and this is something that is JUST IN TIME for the cooler weather.
WARM PUMPKIN SPICE DRINK
This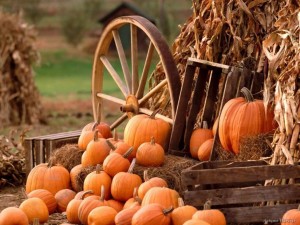 drink tastes just like pumpkin pie in a mug! And … it's caffeine free, so the kids can enjoy!
Ingredients for ONE SERVING:
–1 cup whole milk, heated until very warm (we recommend Homestead Creamery milk … from Wirtz, Virginia)
–1/4 canned pumpkin puree
–1 tablespoon sugar
–1 teaspoon pure vanilla extract
–1/2 teaspoon pumpkin pie spice
–Whipped cream, optional
–Cinnamon, optional
Directions:
Mix the first 5 ingredients together in a blender. The contents will be HOT!  Make sure to remove the lid of the blender with a hand-towel or oven mitt, to let the steam slowly escape. Turn on the blender again and mix on low … then increase your speed to high. Blend the ingredients until it becomes frothy. (I love that word!)   It's best to just mix up two servings at a time … You don't want to over-fill the blender and have hot milk all over the place!
Pour the yummy mixture into your favorite mug and top with whipped cream and some shaved cinnamon.
*To make this dairy-free, you can use unsweetened almond milk or soy milk.
*Too sweet? You can adjust the sweetness of the drink by changing the amount of sugar and/or pumpkin puree
*Mix it with coffee to make this a Pumpkin Spice Latte!
Now, sit back with a book, a warm blanket and …. RELAX.   Or, make a batch up for the whole family and pop in a movie and ENJOY!  And, if you enjoy the taste of the Homestead Creamery milk that we suggested, you are in luck! Throughout Southwest and Central Virginia, many of the Homestead Creamery milks, ice creams and cheeses can be found at your local grocery store. Or, you can have it delivered right to your house! For more information, check them out: https://www.facebook.com/Homestead-Creamery-Inc-152846474769734/timeline/.