Adventure Us: Paw-Paw Trail
If your family is anything like mine, you're in desperate need of some fun, educational adventures for all ages this summer, preferably without crowds and within easy reach of the Roanoke Valley. Good news! We've got you covered. We plan to share a long list of adventures right here on the Roanoke Valley Family Magazine website, so follow us on Facebook and check back each week for a new itinerary to add to your family's bucket list.
Adventure #1: Paw Paw Trail, Salem, VA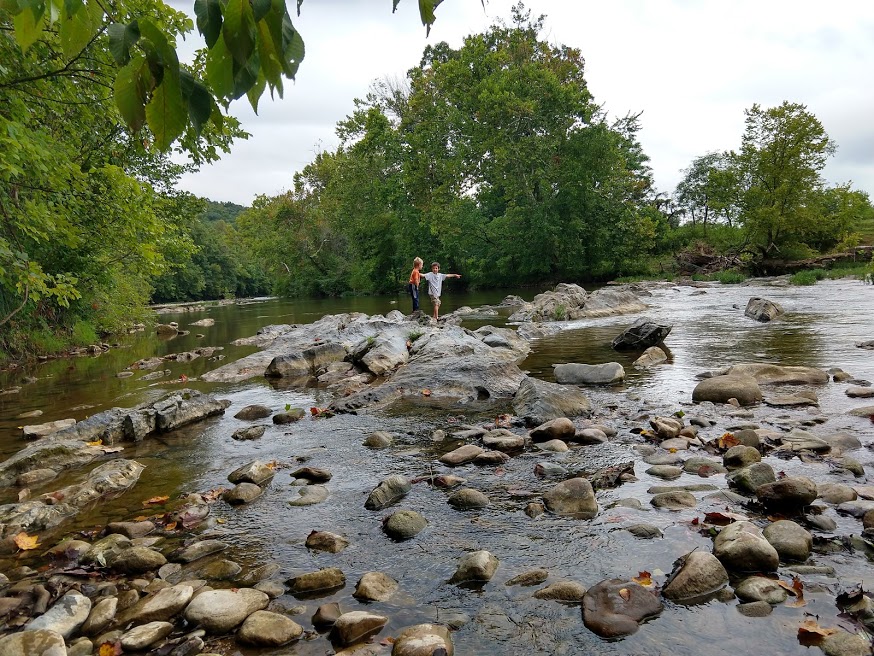 Picture this: the sun glints off a wide, lush valley rimmed with mountains. A train rumbles in the distance, as does the tractor of a farmer tending his crops. A river rushes by, dotted with boulders for basking, pools for soaking, and fish for catching. Tree branches hang heavy with fruit. Wildflowers carpet a forested hillside. Trails wind throughout the area, and a colorful playground overlooks it all.
Where is this magical place? Right here in the Roanoke Valley, and you've probably already visited it: Green Hill Park in West Salem. But while you can't miss the grassy fields (where else would all the vehicles park for Touch-A-Truck?) or the brightly colored playground equipment, there are many other treasures to unearth here as well. The Paw Paw Trail, for example, is a dirt path near a small parking area at the very end of the road that runs past the playground. The trail forms a short loop that heads up the hill through the woods behind the picnic shelter and circles back around to meander for a bit along the river. In the spring, you'll find those woods filled with trillium and bluebells. In the summer, the river is a perfect playground (not during flood season and always with proper safety precautions and supervision, of course!). In the late summer into fall, there are apples (near the parking area), chestnuts (near the picnic shelter), and pawpaws (along the river) to forage.
The Paw Paw Trail is just one of the many attractions Green Hill Park boasts. There is also a level, paved trail that continues along the river past the playground for strollers, bikes, roller skates, skateboards, and scooters. There are two picnic shelters (one near the Paw Paw Trail and one closer to the entrance of the park), and both are equipped with grills. Picnic tables and benches are scattered throughout the park. In addition to soccer fields, there are baseball diamonds and an equestrian center. So make plans to rediscover Green Hill Park's hidden treasures with your family soon!
What part of Green Hill Park do your kids enjoy the most? What other parks in the area are your family's favorites and why? Let us know in the comments!
Name: Green Hill Park, 2501 Green Hill Park Rd, Salem, VA 24153
Time from Roanoke: 20-30 minutes
Activity Options: Trails, River, Playground, Picnic Area, Sports
Nearby Food: Arby's, Angelle's, Dairy Queen, Mamma Maria's, Denny's, Hardee's, El Rodeo, Dynasty, Tokyo Express, White Oak Tea Room, and more
Nearby Attractions: Riverside Plant Nursery