Breakfast, the most important meal of the day!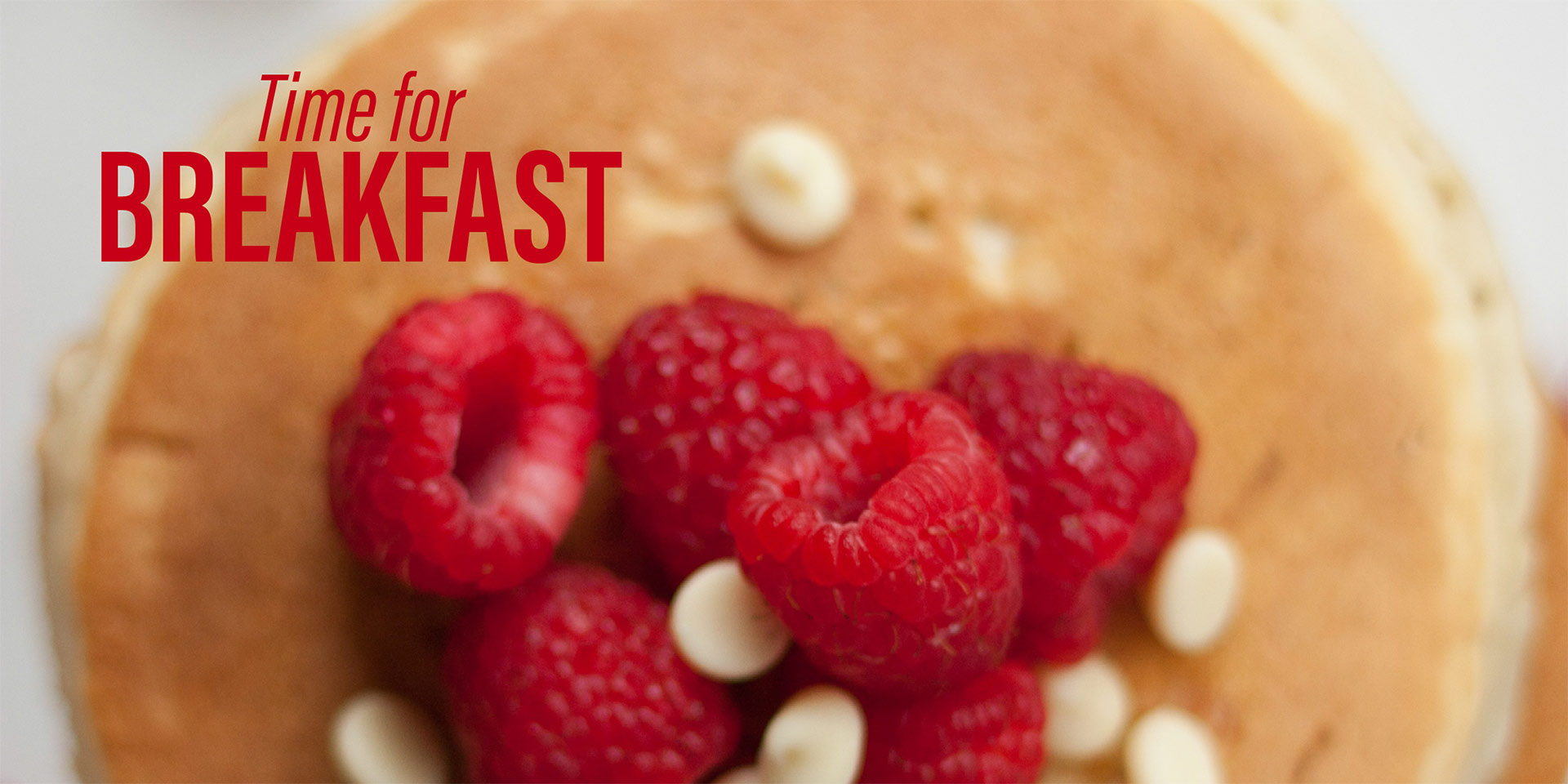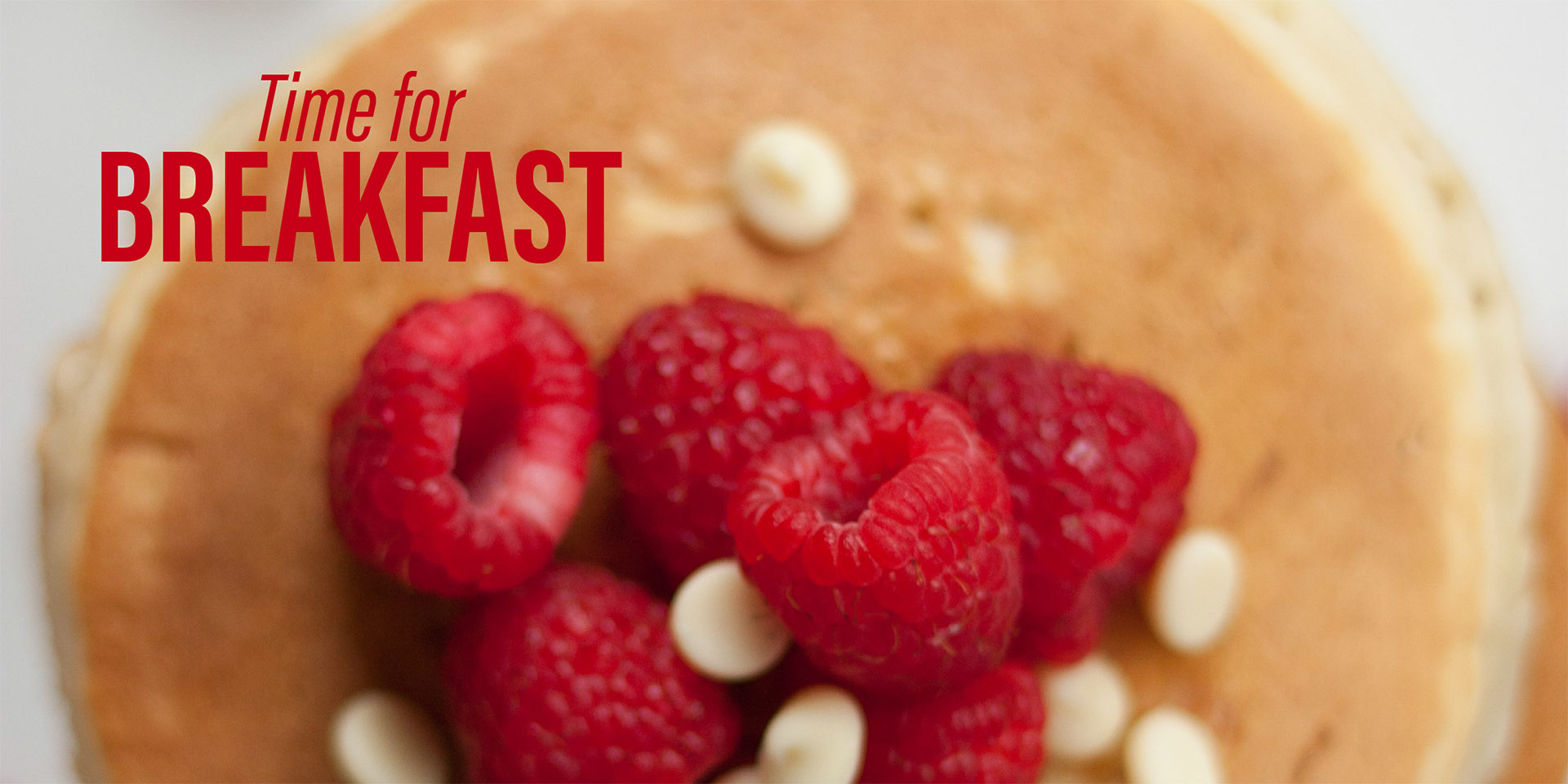 Pancakes
Is there a more quintessentially American breakfast than pancakes? While many families consider pancakes too fussy and messy to be an everyday meal, they can actually be great for on-the-go mornings!
You can prepare your mix the night before, and store it in a large, covered measuring cup in your fridge. Heat up your pan or griddle when you're starting the coffee maker in the morning, and you'll be ready to begin your day with just one dirty pan after breakfast.
Pancakes are also a great way to sneak more vegetables and fresh fruits into your child's diet. You can top their plate with fresh berries and a teaspoon of jam instead of sugary syrup. Or, finely shred up to two cups of zucchini and add it to your favorite pancake recipe with a
tablespoon of pumpkin pie spice for a pancake that taste just like grandma's delicious zucchini bread!
Of course, pancakes are a great choice for a sweeter breakfast, too. You can mix chocolate chips, candy pieces, crushed nuts, chopped fruit, even caramel sauce right into your batter to create a delectable pancake. Don't forget to top it off with whipped cream!
Oatmeal
Oatmeal has long been a classic breakfast choice, but it's often overlooked as boring, simple, or plain. It's time to rethink this staple—oatmeal can pack quite a punch on your palette!
Overnight oatmeal is a great way to save time in the morning. It also allows you to serve oatmeal cool for those steamy days when you don't want to work over a hot stove. To create overnight oatmeal, soak old-fashioned rolled oats in a milk of your choice (It's great with dairy, soy, almond, or cashew milks!) and add in your favorite fresh fruits or flavor additions. It will keep in your fridge for two to four days without mixed fruit.
If you're feeling adventurous, you can try other grains as well, like amaranth, spelt or farro, for different flavors and additional health benefits. Kids often enjoy a swirl of jam or sweet cream in their bowl, and don't forget the classic combo of a sliced banana and a spoonful of peanut butter, either.
Eggs
Eggs are the first choice for many families because they are a wonderful balance of delicious and healthy. However, so many families get stuck in a rut with their eggs, and end up becoming bored with breakfast because of it.
However, eggs can be a great backdrop to so many different flavors. You can also shake things up by changing the way you serve your eggs. Simple hard boiled eggs with toast and jam are great for teens who don't have much time in the morning. For those looking for some spice in the morning, scrambled eggs with cheese and salsa is a perfect recipe.
To save time (and dirty dishes) in the mornings, you can create small quiche-like egg cups in a muffin tin with various additions. In a large muffin tin, add different toppings like diced bell pepper, shredded cheese, ham, or bacon, and cover with scrambled eggs until two-thirds full. Bake at 350 degrees for fifteen to twenty minutes. Once cool, remove the "quiches" and wrap them in plastic wrap or store them in a plastic freezer tub. Freeze for up to three weeks; to serve, you can reheat them in toaster oven. They're also great to take to work or school for lunch.
Yogurt
Yogurt is the best choice for a quick, do-it-yourself breakfast for the whole family. A simple cup of yogurt is a blank canvas for any sort of flavor you may like. You can keep the texture smooth and add in jam, peanut butter, or pureed fruits. If you want more crunch and texture, crushed nuts, cereal, shredded coconut, and chopped fruits are delicious choices.
You can surprise your kids with yogurt popsicles for breakfast by layering fruit, yogurt, and a sprinkle of granola into a popsicle mold the night before.
Overnight Oatmeal
Simple, customizable overnight oatmeal makes for a quick, delicious, and healthy breakfast the next morning. Serves 1.
Ingredients
½ cup milk (dairy, almond, cashew, or coconut works!)
½ cup old-fashioned rolled oats
Optional add-ins: yogurt, chia seeds, fruit (fresh or dried), nuts, nut butter, seeds, protein powder, granola, coconut, spices, citrus zest, or vanilla extract.
Directions
Place the desired amounts of milk and oats into a jar or container and give them a good stir. Refrigerate overnight or for at least 5 hours.
In the morning, add more liquid if you'd like. Once you achieve the desired consistency, top with fruit, nuts, nut butter, seeds, protein powder, granola, coconut, spices, zest, or vanilla extract.
The oatmeal will last two to four days in the fridge, without fruit mixed in.
Zucchini Bread Pancakes
Add a sneaky serving of vegetables to a classic breakfast food. Serves 4.
Ingredients
2 cups shredded zucchini
1 ¼ cups white or whole-wheat flour
2 teaspoons baking powder
1 teaspoon pumpkin pie spice blend
¼ teaspoon salt
2 large eggs
1 cup plus 2 tablespoons milk
2 tablespoons melted butter
2 tablespoons light brown sugar
1 teaspoon vanilla extract
½ cup chopped, toasted pecans
Directions
Whisk flour, baking powder, pumpkin pie spice, and salt in a large bowl. Whisk eggs, milk, butter, brown sugar, and vanilla in a medium bowl. Add wet ingredients and whisk until combined. Fold in the zucchini and nuts.
Cook pancakes on medium heat with liberal cooking spray. Make pancakes about four inches wide and cook each side for 1-3 minutes. Serve hot with butter.