Doctors by Day, Milkin' Cookies by Night
During the latter part of 2009, full-time physicians and mothers Cheri Wiggins and Lennox McNeary-Keyes found themselves living on the same street, working in the same department, and struggling to nurse their new babies amidst the stress of their long work days. Little did they know that these seemingly coincidental commonalities would start them on a journey of close friendship and future business ownership.
Along with her husband Tom and young daughter Anna Grace, Cheri moved to Roanoke in 2008 when she began working for Carilion. In July of the next year, Cheri met Lennox, another physician who was also expecting her first baby. Cheri gave birth to her second little girl, Olivia in August and Lennox followed with the birth of her son only a few weeks later in September. Both ladies knew the benefits of breastfeeding, but their workdays were fairly tiring and stressful.
"We were passing a bottle of Fenugreek back and forth at work," Cheri, co-founder of Milkin' Cookies, recollects, "and we just got so tired of Fenugreek. We started looking at [cookie] recipes. There are recipes for lactation cookies out there. We tried some, but to be honest they didn't taste good."
The new moms decided to take matters into their own kitchens. Being doctors and knowledgeable in the field of nutrition, Cheri and Lennox knew that certain foods called galactogogues were the active ingredients in the breast-milk-producing products. Some of these foods include whole grains, root vegetables, nuts, chocolate, almonds, flaxseed, wheat germ, and fruits like cranberries. The team experimented with different ingredients.
"At first it started as a way to relieve stress and to just see if we could make [the recipes] taste better," says Cheri. Some thirty-five taste tests later, the ladies had perfected their very own galactogogue-rich cookie recipe. Milkin' Cookies, as they are creatively named, are made with wholesome and healthy ingredients that include whole wheat flour, flaxseed, wheat germ, and oats. As Cheri and Lennox continued making and eating the cookies, their friends started to ask for them too.
Around October of 2009, Cheri and Lennox began to recognize that maybe they had something special. "We were giving (the cookies) to our friends and we realized, these things really work. It was a very interesting experience, something that we were pretty motivated about," Cheri recalls. It was around this time that the two friends decided to try their roles as after-hours business women. Since the cookies are all natural, with no preservatives or artificial ingredients, the "Mommy-doctors" ensure that the cookies are baked, packaged and shipped within one day of ordering. "Developing the website and increasing packaging, shipping and production was an amazing amount of work. I look back and think we must have been crazy! There's always about a hundred things on my to-do list," Cheri laughs.
The work has been worth the rewards. Milkin' Cookies get great feedback from breast-feeding mothers. About 98% of women say that they notice an increase in milk production and many consumers report a very significant increase. The results seem to speak for themselves, and even some non-nursing buyers have admitted they order the cookies just for the taste and nutritional content. The Milkin' Cookies now come in oatmeal chocolate chip and oatmeal cranberry flavors. There is also a dairy-free option in the works.
Most orders come from the website, Milkin-cookies.com. Customers can use the site to purchase cookies, see testimonials from women who use the product, and find helpful information on nursing. Lennox and Cheri attend medical-related events to promote their product and are often surprised when they are recognized by thankful moms who have seen them on the website. Many of these women have their own anecdotes to tell about how Milkin' Cookies worked for them. The team is working on trials to provide additional evidence-based research for their findings. Cheri and Lennox are making a difference in the medical field, and making nursing moms lives a little bit tastier.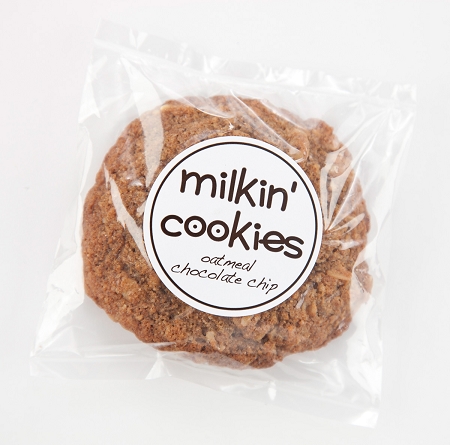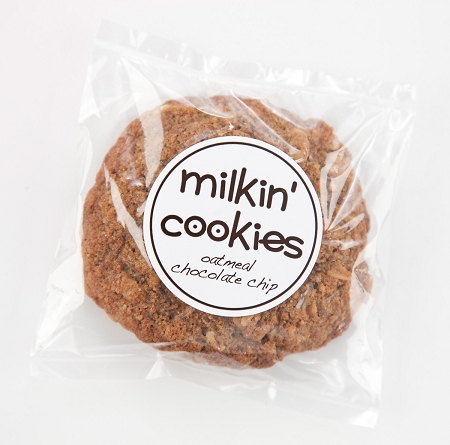 -Rachel Robinson