The Taubman Museum of Art: Sparking Artistic Inspiration to Those Young and Old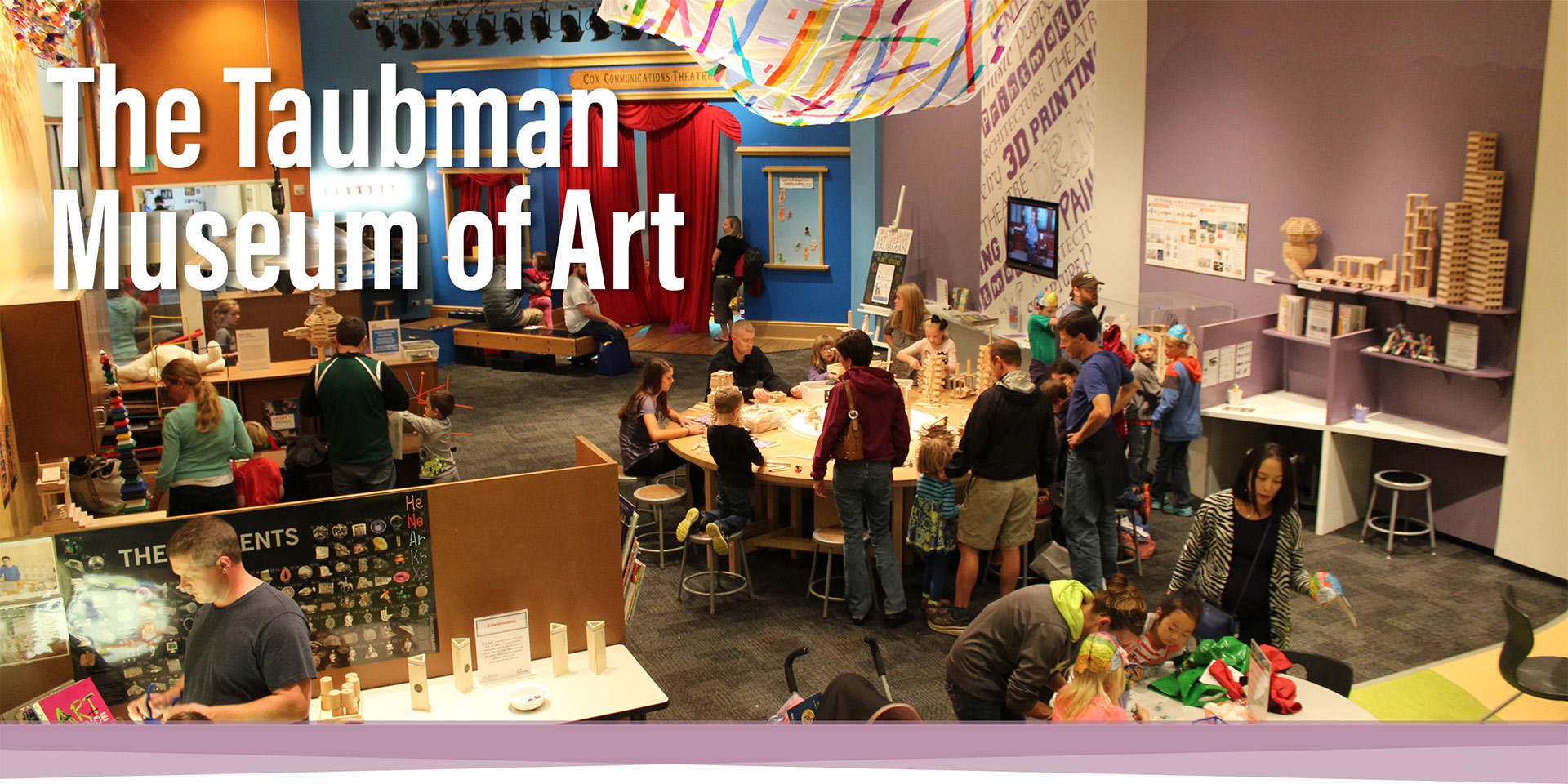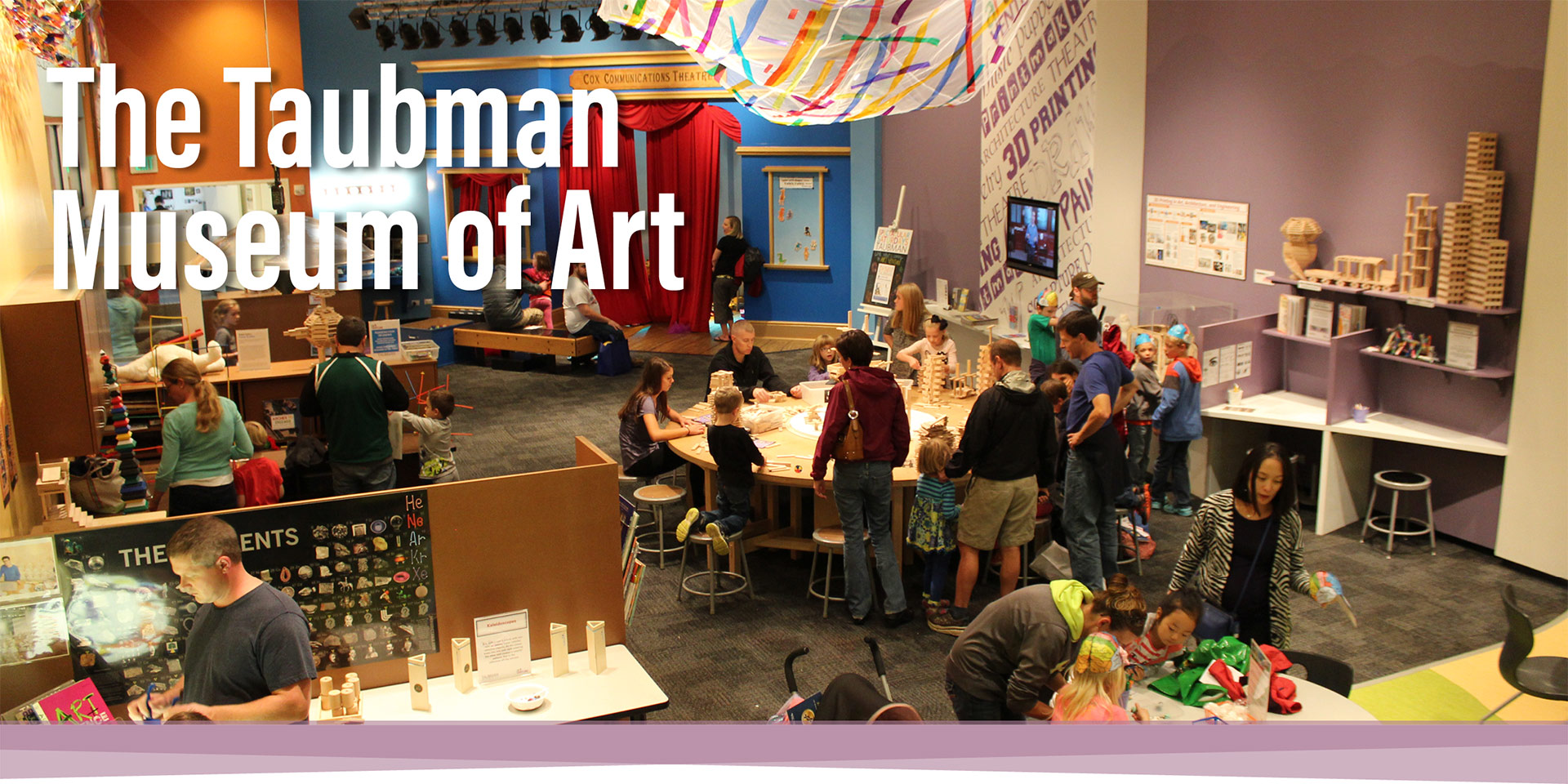 You can't miss the Taubman Museum of Art. As you drive down Williamson Road, you see the metallic peak pointing upwards and the curves of the building arching and flowing like the beautiful mountains surrounding Roanoke.
The gorgeous surroundings were the main inspiration behind the contemporary structure, designed by renowned architect Randall Stout. Executive Director Cindy Petersen said, "He was very purposeful in mirroring the Blue Ridge Mountains, basing his design off the natural setting around Roanoke and bringing it into the downtown area." Celebrating ten years this November, the Taubman has grown in notoriety and in community support.
Community
The Roanoke Valley is a very community-centered place; it's one of the numerous reasons people love it here. The Taubman is no exception. They are very community-focused in their mission: to bring people and art together for discovery, learning, and enjoyment. Through their free general admission program, sponsored local companies (Appalachian Power and Haley Toyota of Roanoke), the museum is fully accessible to anyone who wants to visit basic exhibits. "Having the barrier of an admission charge lifted allows for the museum to be welcoming and meaningful for everyone," Petersen explained.
Along with free admission for anyone who wants to view their exhibits, the Taubman also places an emphasis on supporting and empowering local artists. Every three years, the Taubman hosts the "Homeward Bound Triennial," a competition and showcase of artists from all over Virginia. Of the submissions (there were more than 1,000 during their 2016 cycle), the ones chosen by the jurors are displayed. Then the overall winner is awarded an opportunity to have his or her artwork exhibited in a gallery at the Taubman Museum.
Another great event that ignites the creative juices in local artists, and rouses potential future collectors, is the Monster Art Rally. Held in May of each year, the Monster Art Rally attracts forty artists, from emerging to professional. These artists paint on-site, and then their pieces are auctioned off later in the day.
Celebrating its 60th year is the Sidewalk Art Show, happening June 2-3 at the Taubman and the streets surrounding it. More than 130 local artists showcase and sell their pieces. Families are encouraged to come into the museum to beat the heat outside and have their children participate in The Rescue Mission of Roanoke's drawing contest for their annual Drumstick Dash T-shirt. While this is already a great event to showcase local talent, it is also used as a space to promote events for other nonprofits in the area who are doing wonderful work.
Education
"Over 16,000 children are touched by our educational outreach within schools," Petersen stated. The highlight of the Taubman's educational programs, she said, is Art Venture. Started in 2012, Art Venture is an interactive exhibit specifically designed for children ages twelve months to seventeen years. It offers fourteen different stations, including painting, printmaking, drawing, sculpture, music and visual art, science, a pre-toddler area, color wheel, 3D printing, and much more. These are constantly being rotated, and the themes are periodically changed to align with current exhibits in the main galleries. Art Venture is not included in the free admission (unless you are a member), and the cost is $5 per person, with children 23 months and below free.
Inspiring a New Generation of Artists
If you are looking for creative ways for your family to express themselves, or just to try something new, you need to check the Taubman's website for their class schedules—they offer calligraphy, painting, multimedia art, sculpture, and more. There are classes for all age ranges, including toddlers, children, teens, and adults. They also range in ability from beginner to advanced. "Exposure to art in children builds creativity, sparks the imagination, and encourages conversation," Petersen explained. "It also allows them to look at things from a different perspective."
Spanning Generations
In addition to educating and inspiring the youth of the community, the Taubman is striving to connect with the senior population in future community outreach initiatives. Currently in development is a program to encourage intergenerational art-based activities with older adults and preschoolers.
The Taubman also spans generations with the varying nature of their exhibits. From older classics, like the charming works of Norman Rockwell, to the exquisitely detailed jeweled handbags of Judith Leiber, their collections encompass a vast range of artistic expression. While they rotate exhibits with their statewide partner, the Virginia Museum of Fine Arts, the Taubman boasts a permanent collection of their own that includes more than 2,000 pieces. Yes, you read that right: more than 2,000! These are rotated out periodically, and the museum  routinely reviews more pieces to add, either through donation or working with outside curators.
Vision for the Future
The Taubman already has a huge presence and impact in the community, but the vision for the future of the museum seeks to further immerse the Roanoke Valley into the arts. Petersen describes the Taubman's vision for the next 10 years: "We want to reach the community where they are and offer interactive, inspiring ways to get people interested in art." She emphasized that the Taubman strives to be "an open and inclusive art museum for the community, while being extremely accessible, welcoming, and meaningful to everyone."
Summer Activities at the Taubman
Summer is about to kick into high gear once school lets out and it starts to heat up outside. Here are a few exciting things going on at the Taubman that may interest you and your family. Check their website for up-to-date event details.
60th Sidewalk Art Show: More than 130 artists take over the Taubman and surrounding streets to showcase and sell their works. (June 2-3)
Summer Camps: Available for kids ages 5-10, with topics such as bookmaking, clay creations, painting, and more. (June 4 – August 17; specific dates for camps vary)
Artful Chess: Life-size chess pieces on a large chessboard—challenge your friends! (June 28 – June 30; July 25-28)
Paint Your Pet: A class dedicated to painting your favorite pet. (July 6)
Yoga at the Taubman: Enjoy the relaxing practice of yoga at the museum. (Every Monday from 12:30-1:30pm)
Much more!