Roaming Roanoke: The Roanoke Family Expo and Camp Fair
For this edition of Roaming Roanoke, we are doing something a little different. I usually write about places and events after we visit. However, this time, we are talking about an event before it happens – The Roanoke Valley Family Expo & Camp Fair! This way, you can know everything about it and attend on Saturday!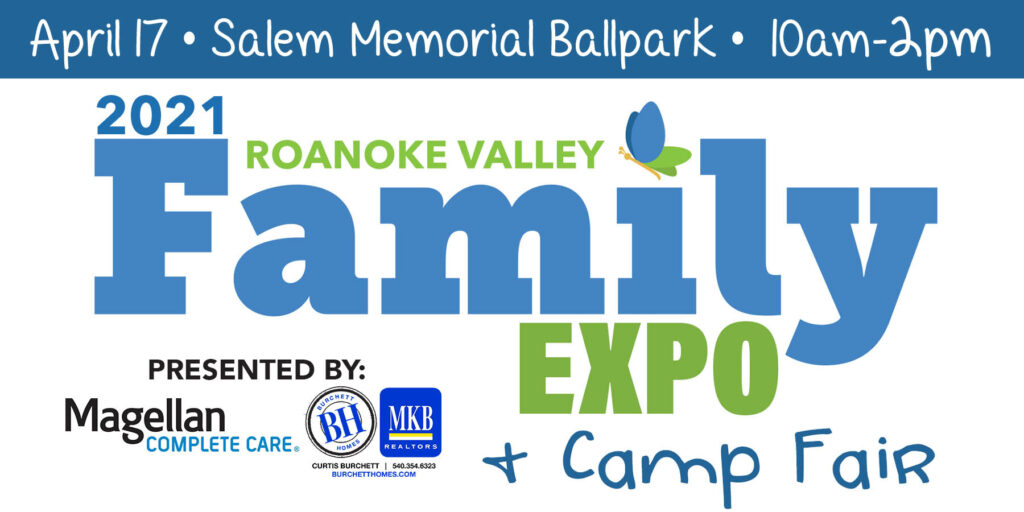 After a year with no events and strict Covid guidelines, it is exciting to see things start to open up, events coming back, and spring weather making outside enjoyable (minus the pollen)! The RVF Family Expo & Camp Fair is one of those events coming back! Parents can gather information and kids can have fun!
The Roanoke Valley Family Expo & Camp Fair is THIS SATURDAY, APRIL 17TH at the Salem Memorial Ballpark from 10:00-2:00. It is FREE! The event brings together local businesses and camps in one spot, so parents and kids can learn all about them, see all of the different fun options in the area, and make future plans! Josh Eagan, Roanoke Valley Family Magazine Publisher, said, "The Expo started five years ago as a way to get families in front of businesses and camps they may have never had the chance to before! The event has changed a lot because of the pandemic but it is essentially an event that gives parents this opportunity to explore local businesses in one spot while giving the kids a chance to have fun."
The Salem Red Sox is a partner for the event. The Salem Memorial Ballpark means there is plenty of room for booths and vendors to spread out, attendees can social distance, and kids have plenty of space to safely play!
The list of activities shows there is something for everyone.
~Meet Salem Red Sox Mugsy 11am-1pm
~Interact with Exhibitors
~Balloon Dude Travis
~Performances
~Win Something – Door Prizes & Scavenger Hunt
~Sample Something New
~See Something Magical
~Enjoy Free Samples
~Get Hands on with Arts & Crafts
Plus, Eagan says parents can get A LOT of information from all of the different booths. Summer is just around the corner (that doesn't seem possible but it is), so parents can start making kids' summer plans with camps and activities. 
Organizers faced challenges due to the pandemic to put this together. Eagan said, "It is very weird. We changed locations (from civic center), cut down on booths available, lowered prices for businesses and changed the date a few times just to try to keep it going. The world is so much different than it was a year ago and we just don't know what we are going to get!"
The event will look different from years past, but Eagan says fun was not compromised. There will be plenty to do, plus you and your kids can get out of the house! He said, "Parents can expect to get A LOT of information! A typical year shows us with around 100 booths.This year will be considerably less for obvious reasons, but there will still be a TON of great local businesses for everyone to meet and learn about!"
I know my family is looking forward to the event! We can't wait to see Salem Red Sox Mugsy, try to win some prizes, watch Balloon Dude Travis, see performances, and try some arts and crafts! Plus, who knows what kind of things we will find to do this summer!
Family Expo and Career Fair
Saturday, April 17th
10:00-2:00 at the Salem Memorial Ballpark
FREE EVENT
People are asked to follow Covid guidelines and wear masks.
If you have a place or event for Roaming Roanoke to visit, please let me know!
More Roaming Roanoke