Adventure Us: Catawba Valley
There are few scenes as picturesque as the view descending into Catawba Valley on Rt. 311. Yet it wasn't until recently that our family took the time to explore more of this beautiful valley.
We entered the valley from the north, cutting west from Daleville on Catawba Road, Rt 779. It was a fine autumn day, and the mountain ridge rose up before us in fall splendor. Where the road intersects with Rt 600 and joins the course of Catawba Creek, we met our first adventure. Just a quarter mile up Rt 600, beside the creek and on the edge of National Forest land, stands Catawba Furnace, one of Botetourt County's many abandoned iron blast furnaces. This one, though rundown and overgrown, is still interesting to explore. A few scattered pieces of iron ore rock and a few bits of slag can be found if you're willing to hunt for them. One of the archways and the channel used for the outflow of the waterwheel (which powered the furnace bellows) are still intact. Like most of the furnaces, this one dates back to the early 1800s, and was used through the end of the Civil War.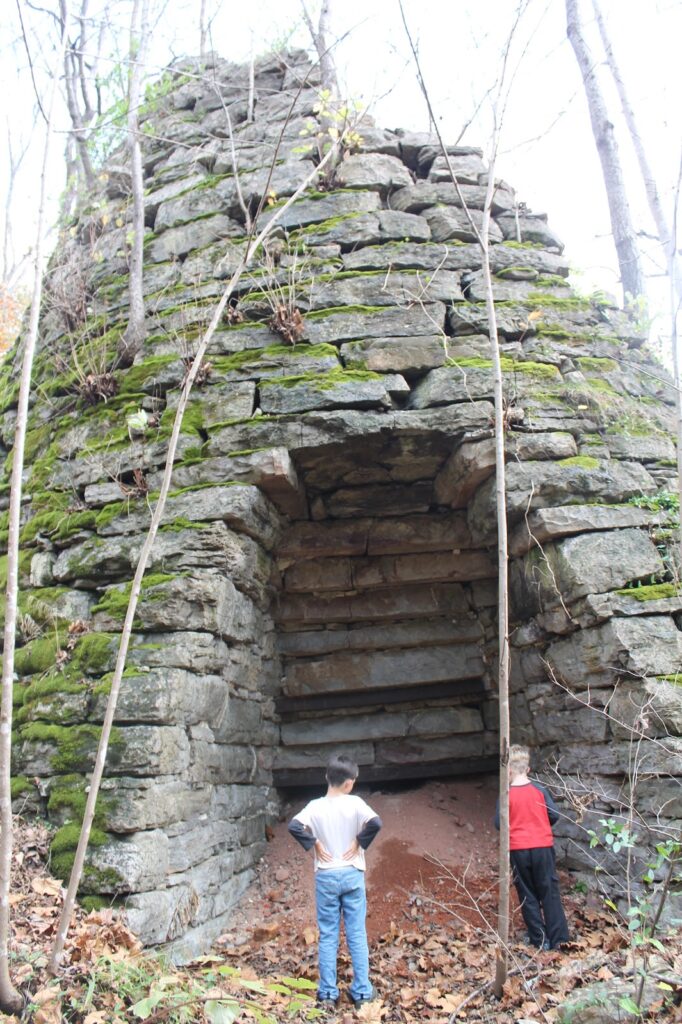 A quarter mile back down at the end of the road, our sharp-eyed kids spotted another adventure on Catawba Creek. Just below the road, the creek rushes over a weir. To supplement the view, we were treated with a grove of persimmons and shook down a few ripe ones to snack on.
The drive down Catawba Valley will make you want to live there. The peaceful beauty of the creek meandering through the farmland, set against the backdrop of the mountain ridges, is enough to stir the heart of the most calloused city dweller! Interestingly enough, Roanoke Cement Company at the north end (the only active cement plant in the state) of the valley has played a role in preserving the beauty of this scenic valley, with its award winning environmental and water conservation practices.
On our way down Catawba Road, we passed the busy Andy Layne trailhead. This 7 mile hike to Tinker Cliffs on the Appalachian Trail is considered the third jewel of the "Triple Crown" of the best local hikes (along with McAfee's Knob and Dragon's Tooth). It offers gorgeous views of the valley and surrounding peaks – and a serious workout. Being in a lazy frame of mind, we passed on, enjoying the views from the road.
Finally, near the historic Catawba Hospital, we came out on Rt 311 and headed back toward Roanoke. The valley, however, continues on toward Blacksburg, with more beautiful mountain scenery and historic sites.
If you ever need a getaway to decompress from city life, we highly recommend a day trip to Catawba Valley. Property doesn't come up for sale often in this area – maybe now we understand why!
Name: Catawba Valley, accessed by Catawba Road, Rt 779
Time from Roanoke: under 30 minutes
Activity Options: Trails, views, historical sites, fishing
Nearby Food: Many Daleville, Salem, and Roanoke options within 30 minutes. (If only the Homeplace Restaurant were still open!)
Nearby Attractions: Andy Layne Trail
More Adventre Us